Leo Health Horoscope: Tomorrow

Nov 29, 2023 - An increase in passion helps you go after what you want today, Leo, but it can also lead to conflict if you don't create balance in the body. Try starting the day with yoga, meditation, and burning incense to clear any negative energy or tension from the body.
Blue lace agate is a stone that releases tension and negativity, making it an excellent stone to work with today. You can hold a piece of blue lace agate to an area of the body that feels painful or sore to promote healing today.
Tomatoes are rich in vitamin C, potassium, and antioxidants that the body craves. Sliced tomatoes go well with salad, cottage cheese, or avocado toast and help keep you full today.
Just as he was in ancient days, The Emperor in the Tarot is the symbol of ultimate authority; but where his authority lies in your day or question remains to be seen. This could be anyone from a police officer to a real estate agent or lawyer. Home issues and father figures can also crop…
Let These Tarot Readings Help Guide You Through Your Day
Daily Gemstone & Crystal Reading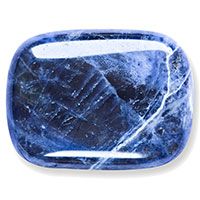 Sodalite's name was taken from the Ancient Greek meaning for "salt stone," referring to the white Calcite flecks peppered through it. Known for its properties of intuition, guidance, and focusing energy, Sodalite is a wonderful crystal to work with to help with self-esteem for guidance, and its calming vibrations can…