Mar 30, 2023 - People are going to be pulling you in all kinds of directions, and one moment you're happily headed towards the bedroom hand in hand, the next you're recoiling because you just don't feel like it. The intuitive Moon is currently moving through your sign, turning you into a receiver for all the emotional energy in the skies above.
Unfortunately said energy is going to be a bit intense and stressful as she is opposing revolutionary Pluto throughout the day, currently in your 7th House of one-on-one relationships and marriage. Perhaps a lover keeps playing you hot and cold and it's driving you up the wall, or perhaps your responsibilities keeps getting in the way of private time; whatever it is just try to keep your cool.
Things will get better.
It's a new day! Literally, in some cases, when The Sun card arrives. But The Sun also represents a new day in your situation you are asking the Tarot about today. Major Arcana cards can be quite ambiguous when it comes to timing, and generally, the meaning of time when Major Arcana cards arrive is…
Let These Tarot Readings Help Guide You Through Your Day
Daily Gemstone & Crystal Reading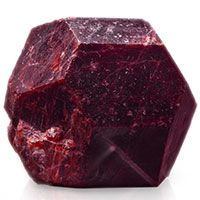 Garnet promotes love and attracts romance, making it an excellent stone to work with for anyone looking to increase the love in their life. This crystal is particularly helpful for those under the signs of Leo, Virgo, Capricorn, and Aquarius, all signs where loyalty is of the utmost importance. Garnet's…