Leo Sex Horoscope: Yesterday

Mar 29, 2023 - Have you been keeping your fire hidden from the world? With the Moon moving through your secretive 12th House you might feel as though your mojo has taken a temporary leave of absence, but today's stars call you on your bluff and remind you of the beast within, just be sure you don't let that beast overpower you!
Expansive Jupiter is reaching out from your truth-telling 9th House and forming a tough angle to el Sol, so even if you want to be left alone you might find yourself being brought out to play against your urges.
If you've got your Kundalini energy rising then today you could let loose some energy that has been pent up for a while, but if you're not feeling it then don't let anyone force you into a situation you'd rather not be a part of; remember, 'no' is a complete sentence.
It's a new day! Literally, in some cases, when The Sun card arrives. But The Sun also represents a new day in your situation you are asking the Tarot about today. Major Arcana cards can be quite ambiguous when it comes to timing, and generally, the meaning of time when Major Arcana cards arrive is…
Let These Tarot Readings Help Guide You Through Your Day
Daily Gemstone & Crystal Reading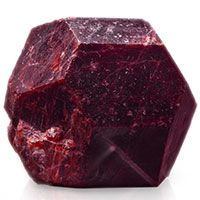 Garnet promotes love and attracts romance, making it an excellent stone to work with for anyone looking to increase the love in their life. This crystal is particularly helpful for those under the signs of Leo, Virgo, Capricorn, and Aquarius, all signs where loyalty is of the utmost importance. Garnet's…