Leo Sex Horoscope: Tomorrow

Dec 11, 2022 - This could be a scintillating day that will have you questioning the boundaries between reality and fantasy, Leo. The emotive Moon is spinning through Cancer and your dreamy 12th House of the subconscious, turning your energy inward and putting you in touch with your spiritual side.
Throughout the day la Luna will form a harmonious angle to Jupiter in Pisces and your 8th House of sex and intimacy, sending rainbow shockwaves throughout the world. Watch for something magical and special to occur: under this alignment a bubbling romance could finally reach a boiling point, and it could happen when you least expect it.
Be open to what the universe brings your way right now, because you're sure to enjoy it over and over again.
You are looking for or needing harmony and balance in a situation when the Temperance card appears. But this is not a negative connotation. The Temperance card appears in the Tarot after The Death card, and this is sending us the call for balance and peace after a stressful situation. In most cases, the balance…
Let These Tarot Readings Help Guide You Through Your Day
Daily Gemstone & Crystal Reading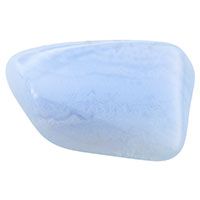 Blue Lace Agate assists with our ability to share and express. If you've been dealing with overwhelming feelings of anger, anxiety, or frustration and have been seeing increased conflict in multiple areas of your life, you might want to invest in this crystal. Its primary chakra is the Throat chakra,…