Dec 10, 2022 - There's a chance that a conversation with another can lead to some intense and powerful positive changes for you, Leo, so it's a good idea to stay open and flexible today!
Money may have been a concern lately but the more you focus on the positives, the easier everything is to handle.
Take time to think about the changes you wish to see and how you can manifest them. Recent lunar energies are clearing the way for a brighter future, Leo, so take time to have a good think today about what you want to see happen.
You are looking for or needing harmony and balance in a situation when the Temperance card appears. But this is not a negative connotation. The Temperance card appears in the Tarot after The Death card, and this is sending us the call for balance and peace after a stressful situation. In most cases, the balance…
Let These Tarot Readings Help Guide You Through Your Day
Daily Gemstone & Crystal Reading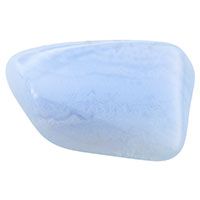 Blue Lace Agate assists with our ability to share and express. If you've been dealing with overwhelming feelings of anger, anxiety, or frustration and have been seeing increased conflict in multiple areas of your life, you might want to invest in this crystal. Its primary chakra is the Throat chakra,…