Leo Money Horoscope: Yesterday

Mar 29, 2023 - This is a day to think about how your relationships with finances makes you feel, Leo.
The lunar energy is encouraging you to be practical in your thinking. It's possible some worry concerns will come rising to the surface and generate some anxiety within so it is important to catch it before it happens.
Writing down your concerns or thoughts about money is a good way to assess what you need to do and to bring greater balance to your inner self. Don't let any anxiety get the better of you, Leo. It's time to stay positive!
It's a new day! Literally, in some cases, when The Sun card arrives. But The Sun also represents a new day in your situation you are asking the Tarot about today. Major Arcana cards can be quite ambiguous when it comes to timing, and generally, the meaning of time when Major Arcana cards arrive is…
Let These Tarot Readings Help Guide You Through Your Day
Daily Gemstone & Crystal Reading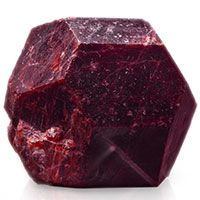 Garnet promotes love and attracts romance, making it an excellent stone to work with for anyone looking to increase the love in their life. This crystal is particularly helpful for those under the signs of Leo, Virgo, Capricorn, and Aquarius, all signs where loyalty is of the utmost importance. Garnet's…