Leo Health Horoscope: Yesterday

Dec 08, 2022 - Your confidence is amplified today, Leo, and your spirit is filled with creativity and inspiration. This is a day to share your gifts with the world and trust that they will be well received. Begin the day with yoga or cardio to release negativity and amplify self-assurance.
Sunstone will amplify your creativity today, connecting you to your artistic center. Wear jewelry featuring sunstone or carry a piece of sunstone with you to increase confidence and inspiration.
For a yummy, filling snack, slice up a pear and serve it with a side of cottage cheese, Leo. This sweet, creamy treat contains antioxidants, vitamins, protein, and calcium.
In the 7 of Pentacles, we saw the worker taking a pause to assess a situation, and here, the 8 of Pentacles has him back at work. He is toiling away at his workbench and piling up 8 of the pentacles in the opposite direction. This Tarot card is an action card that sends the…
Let These Tarot Readings Help Guide You Through Your Day
Daily Gemstone & Crystal Reading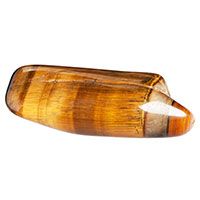 If we are looking to motivate ourselves to make a change or a commitment or are feeling depressed and self-critical, working with or keeping Golden Tiger's Eye near can provide protection and help us to find some sense of balance. Its warmth and brightness, both visually and vibrationally, can help…