Leo Daily Horoscope: Tomorrow

Dec 08, 2022 - Money-loving Venus recently entered your 5th House, kicking off a three-week transit of pleasure and pampering. This sector rules all the most fun aspects of life, from love and romance to children, creativity, and even games of chance.
During this time, you'll want to indulge your senses and that means opening your wallet a bit more than usual. There's nothing wrong with that so long as you keep an eye on your spending–this transit is meant to be fun for a reason–but today this free-wheeling energy receives a cautioning check from the Moon in your outgoing 11th House of social groups and global communications.
Perhaps you wind up footing the bill for everyone else just because you're in such a good mood, but the last thing you want to do is have an act of charity turned into something negative when you realize you totally blew your budget.
Dec 08, 2022 - Do you feel like you and your partner have a sense of friendship within your relationship? It's important that you have that be a foundation for your connection. The Moon is in Gemini and in your 11th house and it is asking you to…
Dec 08, 2022 - Today is a good day to reflect on the nature of your work community. The Moon is in Gemini and in your 11th house. How connected do you feel to those whom you work with? Do you have a sense of community in your…
Dec 08, 2022 - You've got a lot more on your plate than usual, Leo, and now is the time to regain balance in areas where you may have lost it. Your finances may experience a dip in the coming future so it is important to save as…
Dec 08, 2022 - Your confidence is amplified today, Leo, and your spirit is filled with creativity and inspiration. This is a day to share your gifts with the world and trust that they will be well received. Begin the day with yoga or cardio to release negativity…
Dec 08, 2022 - Love and pleasure are your key objectives now that sensual Venus is in your fun-loving 5th House. This is one of the most exciting and pleasurable transits in astrology, and for the most part you can count on your sex life enjoying a pleasant…
The Knight of Cups is always a welcome card in any reading, particularly in Tarot readings about love or romance. A wonderful invitation is on its way to you, or you may be the one receiving the invitation. This invitation may be anything from a new date if you are single, to a proposal if…
Let These Tarot Readings Help Guide You Through Your Day
Daily Gemstone & Crystal Reading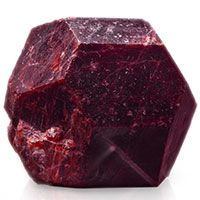 Garnet promotes love and attracts romance, making it an excellent stone to work with for anyone looking to increase the love in their life. This crystal is particularly helpful for those under the signs of Leo, Virgo, Capricorn, and Aquarius, all signs where loyalty is of the utmost importance. Garnet's…