Leo Daily Horoscope: Tomorrow

Dec 06, 2022 - It's probably a workday for you, Leo, but either way it wouldn't be all that shocking if you find yourself distracted with far more exciting things. The intuitive Moon spends the day moving into mercurial Gemini and your fun-loving 11th House of groups and global communications, so social activities what you've been up to will be more appealing than putting your nose to the grindstone and answering every email in your inbox.
You're normally one of the most hardworking signs of the zodiac, but on a day like today give yourself permission to please only yourself and if you're going to bother pleasing other people do it over cocktails rather than a board meeting. In a few days the Moon will enter your sign and light you up with energy, but for now just have fun. That doesn't sound like too much trouble, now does it?
Dec 06, 2022 - The Moon is in Taurus and in your 10th house today, however it is also trining Pluto in your 6th house. How can you allow your relationship with your partner to extend beyond your personal connection with one another and take that love and…
Dec 06, 2022 - Today is a good day to ask yourself "am I where I want to be in my career?" The Moon is in Taurus and in your 10th house. If you feel like you're not, why is that the case? Now what's even more important…
Dec 06, 2022 - This is a great time to discuss your financial plans with others, Leo, and you may be inclined to seek advice from others concerning your financial aspirations. Take time today to think about your long-term plans. Brainstorming with others can result in truly wonderful…
Dec 06, 2022 - You might feel like spending time at home today, Leo, enjoying your favorite self-care activities. This can be a great day for emotional healing as long as you don't ignore your feelings. Try writing your emotions down to acknowledge and release them. Fluorite is…
Dec 06, 2022 - Your focus is going to be on the platonic relationships in your life rather than the romantic ones today, Leo, so if you were hoping for a steamy Tuesday it might get waylaid by a rambunctious group of friends who can't help begging for…
Let These Tarot Readings Help Guide You Through Your Day
Daily Gemstone & Crystal Reading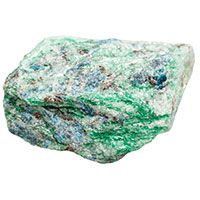 Fuchsite is often associated with healing, loving energy due to this green hue and its ties to the Heart chakra. This crystal allows us to find our inner light and release negative emotional energy, which allows those who use it to become more compassionate and forgiving in our relationships. Due…