Leo Daily Horoscope: Tomorrow

Mar 27, 2023 - If things feel a little intense today and you don't know why, well, there is in fact a very good reason for it, Leo. The intuitive Moon is spending the day moving through Cancer and your sleepy 12th House of the subconscious, so you're a little checked out at the moment.
Throughout the day la Luna will form a powerful conjunction to motivator Mars, currently spinning through this same 'hidden' sector of your chart. When the planet of action is gliding through the 12th House is can be very difficult to use his gifts to your benefit, and in fact it can leave you feeling a little stressed out to say the least.
With this in mind it might be almost impossible to focus on the work in front of you, but don't worry; there's a change coming in the wind.
Mar 27, 2023 - The Moon is in Gemini and in your 11th house today, however it is also trining Pluto in your 7th house of partnership. This planetary configuration is emphasizing the importance of experiencing reciprocity in your intimate partnerships in order to feel that there is…
Mar 27, 2023 - Today is a good day to reflect on the nature of your work community. The Moon is in Gemini and in your 11th house. How connected do you feel to those whom you work with? Do you have a sense of community in your…
Mar 27, 2023 - This is an intuitive time and your intuition is stronger than usual. If you feel drawn to a place or situation today, it is most likely happening for good reason, Leo. Are there patterns of self-destruction holding you back? Stepping outside of yourself and…
Mar 27, 2023 - This transit may amplify your natural charisma and leadership abilities, Leo. Use this time to shine and show off your talents. Your natural enthusiasm and energy will be heightened, making this a good time to pursue your passions and take risks. To enhance your…
Mar 27, 2023 - Don't be surprised if you feel more than a little frazzled today, Leo. The planets are coming together in a combustible alignment that has the day pinging with erratic energy, and while some signs are going to get a kick out it, for you…
There is a bit of a juggling act in play when the 2 of Pentacles appears in your reading. If you are seeing this today, the Tarot is telling you that you've got a lot going on. But this is a Minor Arcana card and not an Earth-shattering juggling act. You may have put a…
Let These Tarot Readings Help Guide You Through Your Day
Daily Gemstone & Crystal Reading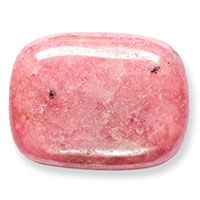 The sister stone of Rhodochrosite, Rhodonite promotes self-healing to make the world a better place. This stone can help us find it in ourselves to heal from within so that we may be stronger for those who need us. Rhodonite is known to assist in finding emotional balance, forgiveness, harmony,…