Leo Daily Horoscope: Tomorrow

Oct 02, 2023 - When Venus entered your sign a couple months ago, it kicked off a free-wheeling cycle of pampering and pleasure. Hosting Venus in your sign is one of the most pleasant transits in all of astrology, so you can expect your fair share of fun times ahead, and since Venus rules money you can sally forth with any financial schemes now and be assured of success. Today might send you for a bit of a loop, but that doesn't mean you can't come out on top.
The intuitive Moon is moving through your ambitious 10th House of career goals and professional success, and while she's there she is going to reach out across the sky to form a tense square with Venus in your 1st House of self-expression and action. You might find yourself a little too sensitive under these angles, or simply you just don't want to do anything at all. No need to push right now.
Oct 02, 2023 - The Moon is in Taurus and in your 10th house. How can you allow your romantic relationship to be an example for others of what an ideal relationship looks like? When I say an ideal relationship, I mean one that is built on honesty,…
Oct 02, 2023 - Today is a good day to ask yourself "am I where I want to be in my career?" The Moon is in Taurus and in your 10th house. If you feel like you're not, why is that the case? Now what's even more important…
Oct 02, 2023 - Now is the time for deeper contemplation. This lunar energy encourages you to be firm but fair with yourself. This Moon can be very transformative. There is a need for balance and self-analysis. You have the power to make incredible transformations at this time.…
Oct 02, 2023 - As this transit takes place, you may feel a bit creatively blocked and uninspired, dear Leo. This is an excellent time to explore new creative outlets and try out new hobbies that spark your passion and curiosity. To enhance your creative flow and inspiration,…
Oct 02, 2023 - When Venus recently entered your sign earlier this year, she kicked off an extended tour of fun and passion that has your name written all over it. As a potent Fire sign, you generally know how to enjoy yourself, but it will be all…
There is a definite feeling of being trapped when the 8 of Swords appears in your day or in your reading. This could be an issue of physical entrapment, such as with matters related to the law or justice, as Swords often deal with legal matters. But Swords also deal with thoughts and words, so…
Let These Tarot Readings Help Guide You Through Your Day
Daily Gemstone & Crystal Reading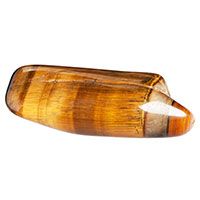 If we are looking to motivate ourselves to make a change or a commitment or are feeling depressed and self-critical, working with or keeping Golden Tiger's Eye near can provide protection and help us to find some sense of balance. Its warmth and brightness, both visually and vibrationally, can help…