Leo Daily Horoscope: Yesterday

Mar 23, 2023 - Professional matters and relationship matters will clash under today's stars, so get ready for a rather jarring experience. The intuitive Moon is moving through your 10th House of professional ambitions and long-term accomplishments, and throughout the day she'll be forming an intense square to power player Pluto in your 7th House of one-on-one relationships and legal contracts.
You could find yourself trying to juggle competing problems, or perhaps a business matter is pushing ahead so fast you hardly have time to read the fine print before someone is shoving a pen in your hand. Don't let power struggles rule the day; if someone is demanding action you aren't ready to take simply take a step back and let them deal with their own problems while you deal with yours. Business deals could be especially shady under this transit, so do keep your wits about you.
Mar 23, 2023 - The Moon is in Taurus and in your 10th house today, this is bringing the focus on the public and external aspect of your relationship. Is the image that you present to the world of your romantic partnership an accurate portrayal of the reality…
Mar 23, 2023 - Are you in touch with your calling? This is something to ask yourself today as the Moon is in Taurus and in your 10th house of career. So often people go through their lives, mindlessly working at a job that doesn't fulfill them, that…
Mar 23, 2023 - Mission efficiency! Today the primal Sun blasts into Capricorn and your orderly 6th House of health and routine. For the last four weeks you had the Sun moving through your fun-loving sector of creativity and passion, but it's finally time to buckle down and…
Mar 23, 2023 - You may feel a burst of creativity and self-expression during this Moon in Aries transit, Leo. This is a great time to engage in artistic or performance-related activities that allow you to express yourself authentically. Citrine is a stone that can enhance creativity and…
Mar 23, 2023 - Your work life and your personal life will be at odds under today's stars, so get be prepared for a wild ride. The intuitive Moon is moving through your 10th House of professional ambitions and long-term accomplishments, and throughout the day she'll be forming…
The Queen of Swords represents the highest embodiment in the female stature of the Air signs. She is likely an older woman that is a Gemini, Aquarius, or Libra, or may just be an older woman that prefers rational thought and logic over emotions. This woman is sitting on her throne and holding her sword…
Let These Tarot Readings Help Guide You Through Your Day
Daily Gemstone & Crystal Reading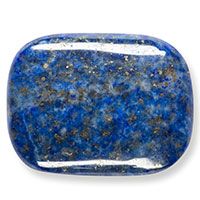 Lapis Lazuli has deep spiritual ties to royalty, wisdom, and truth. It is associated with royalty and other elements of leadership. It has been a well-respected stone since the time of the Ancient Egyptians, who believed this stone could work as a guide toward one's intended path. Additionally, Lapis Lazuli…