Leo Daily Horoscope: Yesterday

Sep 29, 2023 - It certainly is not news that the last few months have felt rather limiting. While you've had to put certain aspects of your life on hold for so long, you've probably been trying to focus on other things, on other ways of existing that still make you feel good and like you're doing OK, as a general rule, could stand to do more tending to their feelings, so hopefully you have been doing that during this stressful time.
Happily, you are about to be given the chance to hit the refresh button on your dreams and desires and start going out into the world again–even if it is metaphorically–with your head held high. This is thanks to the beautiful Full Moon in Aries illuminating your high-minded 9th House of foreign cultures and expansion, so open the windows and let in a breeze.
Sep 29, 2023 - Does your romantic partnership provide your life with meaningfulness? Does it connect you spiritually to something bigger than you, something that you believe in? These are good questions to reflect on today as the Moon is in Aries and in your 9th house. It's…
Sep 29, 2023 - Do you feel spiritually connected to your job? This is a relevant theme to ponder over today as the Moon is in Aries and in your 9th house. What are the things you can do that permit you to have a larger experience doing…
Sep 29, 2023 - Think about how your finances affect your relationships with others. This Full Moon is encouraging you to look beneath the surface. Is someone acting a bit off? Are there financial matters that need to be discussed? The inevitable can only be held off for…
Sep 29, 2023 - This Full Moon transit is a great time for Leo to focus on creativity and self-expression. Try a new art form or indulge in a creative passion. To balance the energy, practice grounding activities like practicing yoga or taking a nature walk. Citrine or…
Sep 29, 2023 - You've been so insular lately, and even if for you personally that doesn't mean much by comparison to the other signs, chances are you've been only too aware of the general slowdown throughout the Universe. Well, I'm very happy to tell you that that…
Knights in the Tarot represent figures that are usually over the age of 25, but younger than 35 or 40. The swords in the Tarot represent the Air element, and so this Knight usually represents a younger member of the Geminis, Librans, or Aquarians that you know. At the same time,knights also represent deliveries sometimes,…
Let These Tarot Readings Help Guide You Through Your Day
Daily Gemstone & Crystal Reading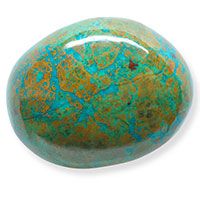 Soothing Chrysocolla has a calming effect that can assist in aura cleansing, give support to find acceptance, and help recovery from feelings of guilt, anger, and fear. If we have been hiding something, Chrysocolla encourages us to be more honest. This crystal also is helpful when healing the Throat chakra…