Leo Daily Horoscope: Yesterday

Dec 04, 2022 - You might have lots of ideas and projects formulating in the works, Leo, but it looks like you might need a dose of reality before you blast off into the atmosphere on your revolutionary rocket of progress and success.
This energy is thanks to the fact that the intuitive Moon is moving through Aries and your entrepreneurial 9th House of high-minded ideals and boundless horizons. Normally this is an exciting transit for the most part but today la Luna will form an intense square to power player Pluto in hardworking Capricorn and your 6th House of work and routine, reminding you off all the groundwork you need to cover before you ride off into the sunset on your new trick pony.
Take your time and go over all the projects you've been percolating and make sure they're water tight; you'll be thankful you took the time to improve them when they're worth that much more down the road.
Dec 04, 2022 - The Moon is in Taurus and in your 10th house today, this is bringing the focus on the public and external aspect of your relationship. Is the image that you present to the world of your romantic partnership an accurate portrayal of the reality…
Dec 04, 2022 - Are you in touch with your calling? This is something to ask yourself today as the Moon is in Taurus and in your 10th house of career. So often people go through their lives, mindlessly working at a job that doesn't fulfill them, that…
Dec 04, 2022 - It's a great time to carry on with organizing your bills for the rest of the week, Leo. This lunar energy encourages you to take a creative approach to your aspirations involving finances. What new ideas are coming into your mind today? Be sure…
Dec 04, 2022 - You may feel more serious than usual today, Leo, making it harder for you to have fun and relax. It may benefit you to focus on your chores, allowing you to release any tension through hard work. Getting things done will also help your…
Dec 04, 2022 - Sometimes something familiar appeals to you the most, Leo, and sometimes you want something completely foreign and unknown to slake your thirst and satisfy your desires. Today you might find yourself stuck somewhere between the two when the Moon in Aries and your 9th…
Let These Tarot Readings Help Guide You Through Your Day
Daily Gemstone & Crystal Reading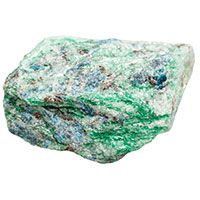 Fuchsite is often associated with healing, loving energy due to this green hue and its ties to the Heart chakra. This crystal allows us to find our inner light and release negative emotional energy, which allows those who use it to become more compassionate and forgiving in our relationships. Due…