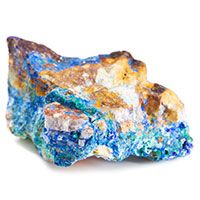 Affirmation(s): "I am open to guidance."
Azurite is known to help when we are dealing with emotional issues, confidence, and the feeling of impatience.
Sometimes we lose touch with our ability to be kind and to feel comfortable within our own skin or within our surroundings. Sagittarius and Aquarius can feel particularly left out from time to time due to their independent and free spirits. Azurite can help with this because it taps into our communication styles, giving us guidance and even providing intuition, which can help us reach the same level as those around us.
Its primary chakra is the Third Eye chakra, which relates to our intuition. A blocked Third Eye Chakra can lead us to be just as blocked when it comes to relating to others, which can break down our self-confidence. Use this crystal in your meditation ritual to help unblock the Third Eye.