For the Month of: May 2023
May - Aries, your April horoscope is ripe with significant life changes, growth, and spiritual expansion. Once you release your grip and realize that life is unfolding for you according to divine planning, things will feel much smoother in the upcoming months.
The month begins with a fiery New Moon in your sign- this is the first of two New Moons, ripe for fresh starts and intention settings. Here, you gain an opportunity to shed what no longer serves you by embracing the shadow and moving toward the light.
Aries Risings, the New Moon will travel through your 1st house of appearance, body, and identity. At this time, the Moon will form a conjunction with Mercury, the Sun, and Chiron; this aspect speaks to who you are becoming and how you realize your best self.
New Moons activating your 1st house is perfect for a radical new journey of healing and personal self-discovery, potent energy that will continue to blossom as the year unfolds. Remain dedicated to your desires with a clear focus and purpose.
You'll find yourself attracted to energetic and highly social people on the 5th when Mars and Saturn conjunct in your networking sector. This transit can yield long-term connections, yet you may feel that social contacts and your community tend to place limitations on your over-the-top ideas. Slow and steady wins the race when focusing on your dreams and future. 
True peace transcends fear and confusion, ultimately connecting you back to yourself. So when Venus enters Pisces on the 5th, and Mars enters Pisces a week later, you'll find yourself seeking that peace as you learn how to reconnect with beauty and grace to help move past the darkness that may have been recently in your life.
Since Mars is your ruling planet, expect the energy to press all your buttons and rile back up those pesty emotions you tend to avoid. However, taking the time out for self-care will prove to be highly rewarding, and it will help you better manage your frustrations.
A spiritual timeout will grant you a deeper, more intimate relationship with yourself when Jupiter and Neptune conjunct on the 12th. Expect to feel more sensitive than usual under this energy. Remember, not everyone is attacking you. Embrace your inner confidence and proceed without fear. 
It takes a lot of effort to make a partnership last. So when the Moon reaches fullness in fellow Cardinal Sign Libra on the 16th, you may find yourself in some uncomfortable situations and hashing out old relationship issues. Yet, all those things present as valuable lessons so you can learn how to set healthy boundaries.
Full Moons represent an emotional buildup and release. What have you been holding on to in current or past partnerships? Do you need to rebuild the relationship you have with yourself? These are all perfect questions to ask yourself this Full Moon.
Money is on your mind mid-month when the Sun leaves your sign and enters Taurus. You will want to take your time when making financial decisions. All paths point to taking it slow. Every aspect of your life is changing this month, but it is up to you to persevere in achieving goals.
Finally, the month comes to a dramatic close when Pluto stations Retrograde in Capricorn, Mercury enters Gemini, and the Taurus New Moon activates eclipse Season.
Taurus is a sign of security, stability, and values. This New Moon will close out April and carry you into May; there is a strong emphasis on your assets, cash flow, foundation, and resources. Focus on positioning yourself for success in long-term investments. 
April energy tip, do not rationalize experiences that allowed for less than you deserve.
Breathe deeply and pour back into yourself.
Make sure to check back every month to get your personalized astrological insight from our experts.
Want more information about your own personal astrology? Discover more about your zodiac sign, monthly transits, and your birth chart through our free resources.
Get Your Free Horoscopes Here
On the one hand, the Knight of Pentacles is in no rush, not in a hurry to get anywhere. But on the other, the road ahead of the Knight and the red laurels on his dress and horse indicate he is ambitious and has a bright future ahead. When the Knight of Pentacles appears, the…
Let These Tarot Readings Help Guide You Through Your Day
Daily Gemstone & Crystal Reading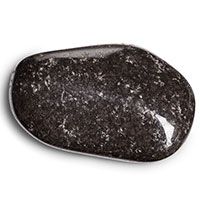 Known for its properties of encouragement, strength, and protection, Onyx connects very closely to our primary chakra, the Root chakra. This is because both Onyx and our Root chakra connect to our sense of safety, security, and our physical identity or sense of self.  The properties of this crystal are…