Aries Daily Horoscope: Yesterday

Mar 29, 2023 - With expansive Jupiter parked in your 1st House of self-expression and presentation today, you might consider shilling out some big bucks on a new look. Perhaps you've earned yourself a few nice things or have been thinking it is time for a few upgrades in your life.
There's nothing wrong with putting some money into your appearance, in fact it can pay off dividends in the long term, but today Jupiter will form a tough angle to the Moon in your 4th House of emotions. You might feel like it is time to open your checkbook and invest in yourself, but today you'll be more likely to spend for emotional reasons than for savvy ones.
Try and hold off on spending as your money will more than likely just be a temporary bandage for something more serious.
Mar 29, 2023 - Sometimes it is ok to just stay at home and cuddle with your loved one. The Moon is in Cancer and in your 4th house. It is highlighting the necessity of allowing yourself to do that. We are quite conditioned in our society to…
Mar 29, 2023 - How much do you rest? Do you allow yourself downtime to replenish your energy? These are good questions to ask yourself today as the Moon is in Cancer and in your 4th house. Do you get so caught up in working that you forget…
Mar 29, 2023 - It's time to get your finances in gear and set your mind into a new mindset that releases you of stress and tension, Aries. You've met your fair share of challenges but just remember that change is on the horizon and the more you…
Mar 29, 2023 - You're feeling a strong urge to take action and pursue your goals, Aries. You may feel the need to make moves and get things done today. To make the most of this energy, try incorporating some fiery spices into your meals, like cayenne pepper…
Mar 29, 2023 - Do not be surprised if you feel like a volcano today. There is a blood-boiling square forming in the sky between the Moon and bountiful Jupiter in your sign, so you're going to be feeling this transit much more strongly than the rest of…
More Horoscopes for Aries
It's a new day! Literally, in some cases, when The Sun card arrives. But The Sun also represents a new day in your situation you are asking the Tarot about today. Major Arcana cards can be quite ambiguous when it comes to timing, and generally, the meaning of time when Major Arcana cards arrive is…
Let These Tarot Readings Help Guide You Through Your Day
Daily Gemstone & Crystal Reading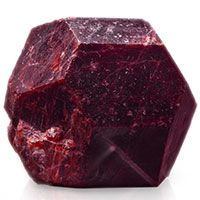 Garnet promotes love and attracts romance, making it an excellent stone to work with for anyone looking to increase the love in their life. This crystal is particularly helpful for those under the signs of Leo, Virgo, Capricorn, and Aquarius, all signs where loyalty is of the utmost importance. Garnet's…