Aries Daily Horoscope: Yesterday

Sep 24, 2023 - This is going to be a very busy day from the look of things, but don't let that get in the way of your work; if anything, you should lean into the social vibrations as it looks like you'll learn a thing or two that could be fundamentally important to your future.
The Moon is moving through your outgoing 11th House of social groups and global communications, and while she's there she'll be reaching out across the sky to form a harmonious trine with the primal Sun in your partnership sector, turning your attention towards the important people in your life and giving them your full attention.
With so much happening in the stars it would be stupid to rest on your laurels, but given the buzzy nature of the day it doesn't seem that will be possible. Get out and talk to people because someone could turn you on to a new idea or opportunity that is just the thing you've been looking for.
Sep 24, 2023 - The Moon is in Capricorn and in your 10th house today, however it is also trining Mercury in your 6th house. How can you allow your relationship with your partner to extend beyond your personal connection with one another and take that love and…
Sep 24, 2023 - Today is a good day to ask yourself "am I where I want to be in my career?" The Moon is in Capricorn and in your 10th house. If you feel like you're not, why is that the case? Now what's even more important…
Sep 24, 2023 - This is an excellent day for communication so take time today to discuss financial ideas and plans with others. This lunar energy means you have no time for small-talk and you are not interested in uncertain ideas which have no grounding in reality. However,…
Sep 24, 2023 - This is a good week to focus on your physical health, Aries. Try a new exercise routine or activity, like hiking or rock climbing, to get your blood pumping. Carry or wear Red Jasper to help you stay motivated and energized. Eating foods that…
Sep 24, 2023 - This could be a very outgoing and romantic day for you, so feel free to lean into the exciting vibrations and get out and paint the town red–within reason, that is. The Moon is traveling through your outgoing 11th House of social groups and…
More Horoscopes for Aries
It's a new day! Literally, in some cases, when The Sun card arrives. But The Sun also represents a new day in your situation you are asking the Tarot about today. Major Arcana cards can be quite ambiguous when it comes to timing, and generally, the meaning of time when Major Arcana cards arrive is…
Let These Tarot Readings Help Guide You Through Your Day
Daily Gemstone & Crystal Reading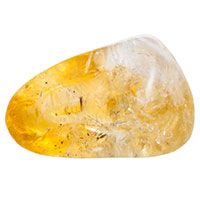 Citrine is a crystal that promotes optimism and positivity, making it one of the best crystals to use when protecting your aura and an excellent all-around stone to attract abundance to your life. Citrine is another form of Quartz, resonating with your inner child. Citrine is best when it is…