Aries Daily Horoscope: Yesterday

Dec 04, 2022 - Things could get rough on the professional front today, and even if you have no work in front of you it looks like there will be some kind of power plays at hand so be on your guard. The intuitive Moon is blasting through your sign and your 1st House of self-expression and action, and throughout the day he'll be forming a tense square with revolutionary Pluto in your 10th House of career goals and long-term achievements.
This is one of the most disruptive transits in astrology, as Pluto is hardly a soft and loving planet; whenever he's involved you can be sure things will be intense, to say the least, and since he's currently roving through your career sector you'll probably be only too aware of his behavior. Remove yourself from any combustible situations if possible, because it looks like you could blow your fuse and blow your chances in the process.
Dec 04, 2022 - Do you feel that your romantic partnerships bring you closer to your values? Does your partner have values that are in alignment with yours? These are necessary questions to reflect on today as the Moon is in Taurus and in your 2nd house. It…
Dec 04, 2022 - What's your relationship to your finances? Are you making as much money as you would like to be? Ask yourself these questions today as the Moon is in Taurus and in your 2nd house of finances. Learn how to be balanced with your money.…
Dec 04, 2022 - There is a chance that you may feel a bit lazy under this lunar energy and struggle to get things done today, Aries. This Moon is bringing out your dreamy side and you may feel like doing nothing at all! This is not the…
Dec 04, 2022 - You feel more competitive than usual today, Aries. You might enjoy playing games or finding lighthearted ways to engage this energy. Playful fun can lift your spirits, raise your vibrations, and help you focus on the positive today. Spirit quartz connects to your spiritual…
Dec 04, 2022 - As much as you might want to pursue your desires and do as you please on a day like today, it looks as though there is going to be something less than pleasurable calling your name right now, Aries. The Moon is moving through…
More Horoscopes for Aries
Let These Tarot Readings Help Guide You Through Your Day
Daily Gemstone & Crystal Reading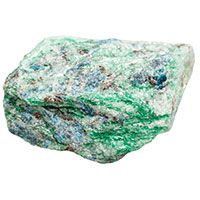 Fuchsite is often associated with healing, loving energy due to this green hue and its ties to the Heart chakra. This crystal allows us to find our inner light and release negative emotional energy, which allows those who use it to become more compassionate and forgiving in our relationships. Due…