Aries Health Horoscope: Yesterday

Dec 05, 2022 - It's easier for you to feel grounded and focused under this planetary energy, Aries. You feel a sense of motivation that helps you go after your goals, so don't shy away from hard work today. This is a great day for exercise of any kind, which will help the body release tension.
Aragonite is a stone that will help you feel deeply rooted in the Earth, allowing you to focus on the positive today. Hold a piece of aragonite in either hand while meditating to clear the body of negativity.
If you need an afternoon snack, try serving up some Kalamata olives with crackers, Aries. Olives contain heart-healthy monounsaturated fats as well as robust antioxidants.
More Horoscopes for Aries
The 2 of Swords has much different energy than the Ace that came before it. This is a card that shows that inaction may be the place you are in regarding a specific situation. You may be at a crossroads on the decision, as noted by the crossed swords in front of the figure in…
Let These Tarot Readings Help Guide You Through Your Day
Daily Gemstone & Crystal Reading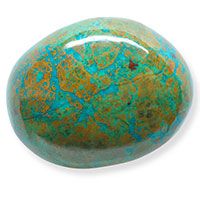 Soothing Chrysocolla has a calming effect that can assist in aura cleansing, give support to find acceptance, and help recovery from feelings of guilt, anger, and fear. If we have been hiding something, Chrysocolla encourages us to be more honest. This crystal also is helpful when healing the Throat chakra…