Aries Health Horoscope: Tomorrow

Jun 05, 2023 - During this Moon in Capricorn transit, Aries should focus on setting practical goals and taking action to achieve them.
Engage in activities that challenge you and push you outside your comfort zone.
Incorporating grounding foods like root vegetables or incorporating black tourmaline or smokey quartz can be beneficial for your fiery nature.
More Horoscopes for Aries
It's a new day and a new beginning when The Fool arrives in your Tarot reading. The Fool is the first card of the Tarot, and is noted by the number 0. This is the start of the Fool's adventure, and the rest of the cards are the experiences The Fool has while on his…
Let These Tarot Readings Help Guide You Through Your Day
Daily Gemstone & Crystal Reading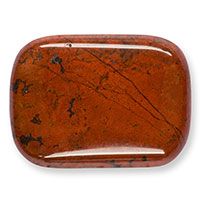 Red Jasper is a form of Quartz, and its energy radiates grounding, passion, and protection. Known as the "Stone of Endurance," it brings stamina, strength, and courage to the user. Warriors often sought it out in ancient times to encourage these traits on the battlefield.   Red Jasper is even thought…