Aries Sex Horoscope: Yesterday

Nov 28, 2022 - There's some extremely positive energy in the stars today, but for you it's more about platonic relationships than any romantic ones. The intuitive Moon is moving through your 11th House of social groups and global communities, so your mind will be likely be more attuned to your friends rather than any one particular person, but it might be hard to focus on them regardless.
Throughout the day la Luna will be forming a harmonious angle to bountiful Venus in your 9th House of foreign cultures and adventure, turning your attention to foreign horizons and higher ideals. People and things are front and center right now, rather than anything hot and heavy.
I'm sorry if that isn't the most stimulating forecast you could hope for, but know there are more exciting days coming your way in the near future, I promise. Just keep your faith and you'll see.
More Horoscopes for Aries
The 2 of Swords has much different energy than the Ace that came before it. This is a card that shows that inaction may be the place you are in regarding a specific situation. You may be at a crossroads on the decision, as noted by the crossed swords in front of the figure in…
Let These Tarot Readings Help Guide You Through Your Day
Daily Gemstone & Crystal Reading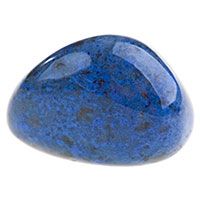 Dumortierite's primary chakra is the Third-Eye chakra, which speaks to our spiritual expression and intuitive abilities, helping us find our purpose. Particularly helpful to Leo, this calming crystal can help us feel supported if we're having issues with confidence and troubled thoughts, making it hard to sleep. Some even claim…