Aries Sex Horoscope: Yesterday

Mar 28, 2023 - What do you want? Oh, you're not sure? You think you know but it keeps changing? Okay, try and just take a step back and calm down because there is too much going on today for you to figure things out and go dashing off into someone else's arms just because you're not feeling your best.
This is a very emotional day for you according to the stars above, and out of all the signs you're one of the least likely to enjoy going through a trying and emotional transit.
You'll probably want to be alone for most of the day rather than spend it moping around with anyone hanging on your every sad word, but know that this mood will lift as the day moves on and that come evening you have a much better chance of not only knowing what you want, but getting it too. Good luck!
More Horoscopes for Aries
The 10 of Cups is a wonderful card to see in any reading, and when it shows up in your day, you are being given a message of pure love. For Yes/No questions today, the answer this loving card brings is an absolute YES. You are going to get what you want, and then some.…
Let These Tarot Readings Help Guide You Through Your Day
Daily Gemstone & Crystal Reading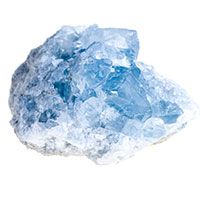 Celestite is a deeply spiritual crystal that helps to connect us to divine wisdom and supernatural forces within the cosmos. This is a crystal to use when you are strengthening your spiritual abilities. It is also a wonderful crystal for those exploring their clairvoyant or psychic abilities. It promotes inner…