For the Month of: January 2023
January - Happy 2023, flirty Gemini. Welcome to January, the first month of a brand-new year. Last month found you dealing with a Full Moon in your sign and your ruling planet Mercury, going retrograde in ambitious Capricorn. You experienced dynamic change last year, and your monthly horoscope predicts a dynamic emergence from a choppy and turbulent transformation. Although, things are still not as they seem. You are urged to look beneath the surface and discover the secret to success and happiness.
On January 2, seductive Venus enters fellow Air sign Aquarius and stimulates your desire for expansion, travel, research, and cross-cultural experiences. Venus in Aquarius comes right after the Sun in Capricorn and forms a harmonious trine to the North Node. As a result, you'll attract fortunate opportunities which will bring you in greater alignment with your purpose.
That Friday, January 6, a bright and beautiful Full Moon in Cancer arrives, emotionally charged and revved up in your resources sector. During a Full Moon, the Moon is at its most luminous and most illuminated state, drawing on the undercurrents of the inner world. Full Moons are strongly linked to passion, sexuality, and taking charge of your innate desires. This Full Moon also finds you reflecting on security, comfort, and intimacy. Currently, a Sun-Pluto conjunction is very forceful and transforms your inner world. Life goals or purpose will likely change, so embrace the tidal waves of change with extra self-care.
After nine weeks of retrograding in your sign, passionate Mars goes direct on January 12. Expect a boost of energy, with your mind a livewire of connection and expression. Mars retrograde taught many lessons about power, energy, authority, and sexuality; now, direct, you can apply those lessons to break ground and achieve goals.
Then, on January 18, your ruling planet, chatty Mercury, goes directly into Capricorn, and you feel more charged than usual. Again, you could feel an unusual nervousness; however, the energies are inspired by inspiration.
The sun enters fellow Air sign Aquarius on January 20, and your attention shifts toward worldwide views, life philosophies, travel, expansion, and communication. If you've been craving something new, Aquarius encourages you to let loose and explore the taboo. Try something unconventional; you never know what new connections you will form.
The next day, a New Moon in Aquarius arrives, like a lucky charm to manifest your new year dreams and wishes. This is the first New Moon of the year and perfect for intention setting and reflecting on subconscious patterns that you're ready to release and replace with newfound wisdom. In addition, this New Moon brings the message of new beginnings, inspiration, and the stages of a worthwhile creative project. So stay focused, keeping your feet planted on the ground and your eyes on the prize.
On January 22, Uranus goes direct in Taurus, bringing about sudden shifts and events that challenge your self-worth, values, and inner world. As a result, significant modifications and changes are coming. But don't be afraid, change is good!
Finally, the month ends with Venus moving into Pisces, activating your career zone, which could mean a new business venture, big raise, promotion, or lifestyle change. Love is still on the horizon this transit, and you might want to commit or turn your situation into something more serious now.
Gemini, overall, your monthly horoscope supports you in turning your dreams into reality. However, give yourself some space if you struggle in certain areas and step away from the project or situation. Happy January!
January's affirmation, "I learn to craft order, habits, and rhythm that support happiness and success. I take time out for realignment and rest when I struggle with stress."
Make sure to check back every month to get your personalized astrological insight from our experts.
Want more information about your own personal astrology? Discover more about your zodiac sign, monthly transits, and your birth chart through our free resources.
Get Your Free Horoscopes Here
Let These Tarot Readings Help Guide You Through Your Day
Daily Gemstone & Crystal Reading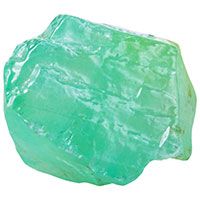 Because its primary chakra is the Heart chakra, working with Green Calcite can strengthen our connection You could also create an "Opportunity Elixir" by infusing your drink with Green Aventurine. Place a small (clean) chunk in your water or tea and let it soak for 30 minutes or more. The…