For the Month of: May 2023
May - Happy December, beautiful Gemini! The Sun continues to move through optimistic Sagittarius, promoting expansion, fun, and lightheartedness in your relationships. Last month, a chaotic Lunar eclipse in your unconscious sector forced you to deal with suppressed emotions and recharge your batteries in preparation for future action. Mars is retrograding through your sign, and energies may seem low. However, your monthly horoscope predicts you reaching a point of completion and accomplishment in your journey. Have faith, trust that everything is coming together, and be proud of your achievements.
A Mercury-Neptune square kicks off the month on December 1, causing all sorts of mix-ups and confusion. Thinking and communication carry a dreamy quality and are unclear. However, creativity and inspiration are high, and it's the perfect time to turn your interest toward arts, music, writing, etc.
On December 3, things seem hazy when mystical Neptune goes direct in Pisces, ending a period of coming to terms with reality. Now that Neptune is moving forward, it's essential to use your internal guidance to navigate the fog. First, listen to yourself for clarity before believing everything you hear.
It's time to get things done when chatty Mercury enters Capricorn on December 7 and activates your sex and transformation sector. Expect conversations concerning money, especially themes like debt and shared assets. Stay sharp and focused, and avoid energies or people that drag you down. Slip into something sexy and tune into your sensual side. 
Then, a Full Moon in your sign arrives on December 7, the most important Full Moon of the year for you. A Full Moon is a potent peak in Lunar energies representing completion, culmination, illumination, releasing, and magic. You have gone through a significant eclipse cycle, and now the cosmos is locking in the final change as you await in anticipation of 2023. The Sun is currently in Sagittarius illuminating your house of relationships, with the Moon in your personal sector. For some, a new business contract or love interest could develop into something more serious. Or the beginning of a new creative project as you move into a season of wins.
Sexy Venus goes into Capricorn on December 9, shifting your focus toward commitment, longevity, and the material value of relationships. Then, fast-forward to December 20, Jupiter goes back into Aries, which will remain until May 2023. As a result, expect increased confidence, courage, and passion for rekindling your inner spark.
Capricorn season begins on December 21, and the Sun clashes with Jupiter, promoting events that may change your vision or your underlying beliefs about your potential. Philosophies you've held about life and the world are transforming deeply- explore new ways of thinking and open your imagination to new possibilities.
A New Moon in Capricorn arrives on December 23, and Chiron goes direct in Aries. Energetically it's a pretty big day, and the energies may seem slightly overwhelming. However, since a New Moon represents when the Moon is at its darkest point, it's an excellent period for rest and self-care. In addition, this is a time of empowerment and intimacy.
Finally, the month ends with Mercury, your ruling planet going direct in Capricorn on December 29. For the next three weeks, you can expect to revisit old plans and projects you've left behind. After that, technology, travel, negotiations, and communication tend to go haywire.
Gemini, express sincere gratitude for fulfilling your goals this year. However, avoid pushing for things; instead, enjoy what you have. Focus on regaining your sense of clarity, security, and self-worth.
See you next year!
December's affirmation, "I break free from past limiting patterns and find the blessings in their challenges.
I am in alignment with authentic awareness of my true value and purpose. I welcome the new year with gratitude and trust."
Make sure to check back every month to get your personalized astrological insight from our experts.
Want more information about your own personal astrology? Discover more about your zodiac sign, monthly transits, and your birth chart through our free resources.
Get Your Free Horoscopes Here
On the one hand, the Knight of Pentacles is in no rush, not in a hurry to get anywhere. But on the other, the road ahead of the Knight and the red laurels on his dress and horse indicate he is ambitious and has a bright future ahead. When the Knight of Pentacles appears, the…
Let These Tarot Readings Help Guide You Through Your Day
Daily Gemstone & Crystal Reading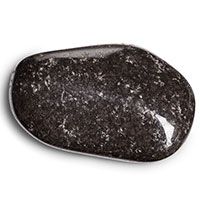 Known for its properties of encouragement, strength, and protection, Onyx connects very closely to our primary chakra, the Root chakra. This is because both Onyx and our Root chakra connect to our sense of safety, security, and our physical identity or sense of self.  The properties of this crystal are…