Gemini Sex Horoscope: Yesterday

Dec 02, 2023 - This could be a really lovely day to spend with someone special, so try not to waste the bountiful energy overhead because chances like this only come along so often. The Sun recently moved into your 7th House of one-on-one relationships, and while he's here he is drawing your attention to the special someone(s) in your life.
If there isn't anyone who fits that bill then you could find them now when the Sun and Moon sync up in your most social sectors. Under such an alignment people will be coming out in droves for you to inspect, so singles have a great chance of finding a new mate while couples could enjoy a truly romantic day with their plus-one.
Plow through any work you might have early on and there's no reason you can't have a very romantic rest of the day.
More Horoscopes for Gemini
When the 10 of Wands appears in a reading, the Tarot is sending the message that you are in the home stretch now. This card is much more optimistic than its symbolism appears. On the 10 of Wands, we see a lone figure carrying 10 wands on his own, plugging ahead on a long path…
Let These Tarot Readings Help Guide You Through Your Day
Daily Gemstone & Crystal Reading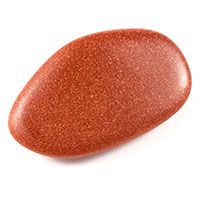 Red Goldstone is an uplifting crystal that can be used to find your positivity, become more confident, seek higher levels of calm, and can encourage us to be more ambitious and driven. The little flecks of gold throughout the crystal are symbolic of the "light" you may find when using…