Gemini Sex Horoscope: Tomorrow

Jun 04, 2023 - Things could feel a little bit off today, Gemini, but that doesn't have to be a bad thing at all so keep your mind open and see where the day takes you. Your ruler Mercury is moving through Taurus and your dreamy 12th House of the subconscious, and while he's there he'll be aligning at the exact same degree as rebellious Uranus, casting a rather surprising vibration throughout the sky.
The thing with Uranus is that you never, ever know what is going to be on the program–that's sort of the whole point of being the planet of surprise and everything–but I don't expect this to be a negative vibration. Just know that you're not going to be traveling your normal path today, not that normal really exists for you, but that the unusual will probably appeal to you even more than usual.
Pay attention to what–and whom–comes into your life today; chances are they're there for a reason.
More Horoscopes for Gemini
The King of Swords is not the guy you want to be on the wrong side of, but if you have his loyalty or appreciation, he's a good guy to have on your team. Often considered the highest leader of the court cards, he mixes the Fire element with his King status and the Air…
Let These Tarot Readings Help Guide You Through Your Day
Daily Gemstone & Crystal Reading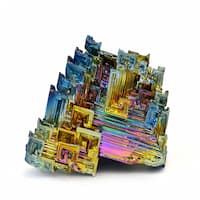 Bismuth is a beautiful multi-colored crystal that helps support transformation within the individual and brings a greater sense of confidence when working towards your hopes and dreams. It is especially helpful for teamwork and helps to relieve feelings of loneliness or being isolated. Bismuth is a Storm crystal and vibrates…