Gemini Daily Horoscope: Yesterday

Sep 29, 2023 - People play all kinds of roles in our lives; there are the foundational relationships we have with our nearest and dearest, then there are those close friends and sweethearts with whom we like to share as much as possible (although some more with others, if you can read between the lines) and then there are all the people "out there," all the people you sort of know, or have connected with over one form of social media or another. These people might not seem all that important generally, but that is subject to change, especially now as the powerful Full Moon in Aries illuminates your 11th House of social groups and global communications.
This Moon is beautifully aspected, and it looks as though a connection from far away could suddenly play a very important part in your life; perhaps it isn't just one person, but in fact a whole crew of people; either way, the planets are bringing you together to enjoy something special. What do you think it could be?
Sep 29, 2023 - The Moon is in Aries and in your 11th house today. Do you have a sense of friendship in your intimate relationships? Do you feel that you and your partner aspire towards the same goals and ideals in your personal and joint lives? These…
Sep 29, 2023 - Community is such a determining factor of whether you experience joy or fulfillment at your job. The Moon is in Aries today and in your 11th house. This is highlighting the nature of your relationship to your coworkers. Do you have an easy time…
Sep 29, 2023 - This is a time to focus on your imaginative spirit. Do you have a good relationship with your finances? The lunar energy is calling you to slow down this is a good time to go inwards and have an honest conversation with yourself. What…
Sep 29, 2023 - This Full Moon transit is a great time for Gemini to focus on communication and self-expression. Take time to share your thoughts and ideas with others. To balance the energy, practice grounding activities like hiking or gardening. Blue Lace Agate or Sodalite can be…
Sep 29, 2023 - People are going to be calling your name to come and play, and it is up to you to answer them or else they may very well eventually move on and leave you behind, so don't miss out on a chance for excitement and…
More Horoscopes for Gemini
Knights in the Tarot represent figures that are usually over the age of 25, but younger than 35 or 40. The swords in the Tarot represent the Air element, and so this Knight usually represents a younger member of the Geminis, Librans, or Aquarians that you know. At the same time,knights also represent deliveries sometimes,…
Let These Tarot Readings Help Guide You Through Your Day
Daily Gemstone & Crystal Reading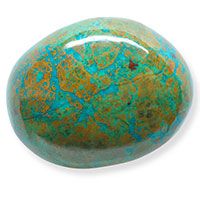 Soothing Chrysocolla has a calming effect that can assist in aura cleansing, give support to find acceptance, and help recovery from feelings of guilt, anger, and fear. If we have been hiding something, Chrysocolla encourages us to be more honest. This crystal also is helpful when healing the Throat chakra…