Gemini Daily Horoscope: Yesterday

Dec 04, 2022 - This is going to be a rather extreme day, Gemini, when your most private business might clash with a very public situation. This energy is thanks to the fact that the intuitive Moon currently in Aries and your 11th House of social groups and global communications, will be forming a tense square to power player Pluto in your intense 8th House of lump sums and other people's money.
This is one of the most jarring transits in all of astrology, so to say that things could get awkward and potentially uncomfortable is a bit of an understatement. Try to think two steps ahead of every conversation because the last thing you want to do is wind up in uncomfortable territory; similarly, this transit could blow the lid off a simmering financial matter, so if you find yourself suddenly needing to doll out a large sum of cash try to figure out the smartest way to handle it.
Dec 04, 2022 - What are the things that you keep hidden from your partner? More importantly, ask yourself why it is that you hide those things from them? These are all relevant questions to contemplate today as the Moon is in Taurus and in your 12th house.…
Dec 04, 2022 - The Moon is in Taurus and in your 12th house today. You are being asked to review any hidden aspects of your job. Are there any unconscious negative feelings that you have about your work? Ask yourself what those are and identify how you…
Dec 04, 2022 - This is a positive time to focus on your surroundings and environment, Gemini. It is good to invest in something new if it is going to help your emotional well-being. Discussing your plans with others can also be highly beneficial for you. There may…
Dec 04, 2022 - You can expect a burst of energy that helps you get things done today, Gemini. It's easy for you to focus on hard work under this planetary influence, so don't avoid your chores. Try starting the day with a new workout routine to give…
Dec 04, 2022 - Things could range from casual to steamy in a matter of seconds today, Gemini, but be careful you don't get burned in the process. The Moon is moving through Aries and your outgoing 11th House of social groups and global communications, so you're in…
More Horoscopes for Gemini
Let These Tarot Readings Help Guide You Through Your Day
Daily Gemstone & Crystal Reading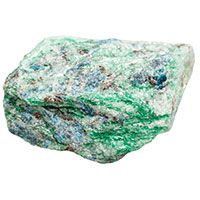 Fuchsite is often associated with healing, loving energy due to this green hue and its ties to the Heart chakra. This crystal allows us to find our inner light and release negative emotional energy, which allows those who use it to become more compassionate and forgiving in our relationships. Due…