Gemini Daily Horoscope: Yesterday

Dec 01, 2022 - You've got your eye on the money today, Gemini, thanks to the intuitive Moon moving through Pisces and your 10th House of professional ambitions and long-term goals. This is always a prime time to orient your focus towards ways to improve your overall net worth and wow a few VIPs in the process, but today you want to be careful not to push too hard because it looks like you could wind up butting heads if you don't pay attention.
The Moon is forming a tense square to Venus in Sagittarius and your 7th House of one-on-one relationships and legal contracts, so your words might not exactly match up with what someone else wants to hear right now. Watch what you say more than usual–I know you tend to do that–but if you're tactful then you might wind up accomplishing way more than you ever intended.
Dec 01, 2022 - The Moon is in Pisces and in your 10th house. How can you allow your romantic relationship to be an example for others of what an ideal relationship looks like? When I say an ideal relationship, I mean one that is built on honesty,…
Dec 01, 2022 - Today is a good day to ask yourself "am I where I want to be in my career?" The Moon is in Pisces and in your 10th house. If you feel like you're not, why is that the case? Now what's even more important…
Dec 01, 2022 - Today is about thinking of how your spiritual and material worlds can merge as one. Is there an imbalance between the two, Gemini. Think about how you can thrive in the coming future. The universal energies are cheering for you to succeed so ask…
Dec 01, 2022 - Today brings the chance for opportunities of a cerebral kind, Cancer, and it is important for you today to harness your mental powers and keep a positive outlook for all you wish to achieve in the coming future, Gemini! Eating plenty of nuts, legumes,…
Dec 01, 2022 - It might be difficult to feel like you've got control over, well, anything, so the most important thing to keep in mind is that you should only ever bother with trying to control the things you definitely can control, and then making sure to…
More Horoscopes for Gemini
If the 5 of Cups shows up today, it sends the message that there is some emotional pain on the table. We see a man with 5 cups around him, 2 are standing upright behind him while 3 are in front of him spilled over. This symbolizes 3 cups of love that have fallen down,…
Let These Tarot Readings Help Guide You Through Your Day
Daily Gemstone & Crystal Reading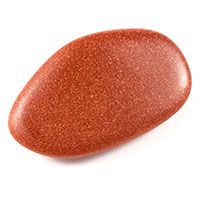 Red Goldstone is an uplifting crystal that can be used to find your positivity, become more confident, seek higher levels of calm, and can encourage us to be more ambitious and driven. The little flecks of gold throughout the crystal are symbolic of the "light" you may find when using…