Gemini Daily Horoscope: Yesterday

Mar 28, 2023 - To focus on funds or friendships? You might feel the urge to do both today, and chances are you can figure out a way to make both happen if you just play your cards right. The Moon is moving through your 2nd House of earned income and material wealth. With such busy energy in the sky above you'll be only too happy to spend the day getting things done, checking off one box at a time.
People might come calling your name, however, as la Luna forms a tense square to the Sun in your outgoing 11th House of social groups and global communications. Roll up your sleeves and check off any boxes you need to; chances are these projects will be well worth the effort, even if they do require a little more effort than you'd like.
Mar 28, 2023 - Do you feel that your romantic partnerships bring you closer to your values? Does your partner have values that are in alignment with yours? These are necessary questions to reflect on today as the Moon is in Cancer and in your 2nd house. It…
Mar 28, 2023 - Are you satisfied with your current financial situation? Are you making as much money as you want to through your work? These are good questions to ask yourself today as the Moon is in Cancer and in your 2nd house of finances and personal…
Mar 28, 2023 - You might find yourself facing a few financial challenges that leave you a little stumped knowing which direction to go in, Gemini. This is a positive day for balancing issues out in your relationships and partnerships, however, so it is a good time to…
Mar 28, 2023 - This transit may bring a stronger focus on communication and self-expression for you, Gemini. Use this energy to connect with others through honest and open communication. Your communication skills will be enhanced, making this a good time to engage in negotiations or discussions with…
Mar 28, 2023 - There might be a lot of options on the table in front of you today, and it could be a little difficult to figure just exactly where your desires lie. Sometimes you want to be the life of the party, yet other times you…
More Horoscopes for Gemini
The 10 of Cups is a wonderful card to see in any reading, and when it shows up in your day, you are being given a message of pure love. For Yes/No questions today, the answer this loving card brings is an absolute YES. You are going to get what you want, and then some.…
Let These Tarot Readings Help Guide You Through Your Day
Daily Gemstone & Crystal Reading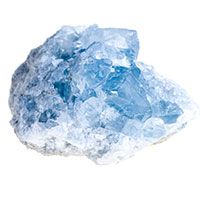 Celestite is a deeply spiritual crystal that helps to connect us to divine wisdom and supernatural forces within the cosmos. This is a crystal to use when you are strengthening your spiritual abilities. It is also a wonderful crystal for those exploring their clairvoyant or psychic abilities. It promotes inner…