Scorpio Daily Horoscope: Yesterday

Dec 09, 2022 - If you've been looking to increase your net worth you're not going to have to look very far, Scorpio. Thanks to money-loving Venus moving into your 3rd House of local communities and close acquaintances you can expect financial opportunities to start opening up closer to home than you ever expected. Perhaps a part-time position at that café down the street opens up or a neighbor needs some help around the house and you're just the person to roll up your sleeves and get to work. Trust that opportunities will present themselves.
This same part of your chart rules siblings, so if you've got any brothers or sisters ask them for some financial advice–provided you trust their opinion, that is; even if they don't have a Suze Orman-level of financial savvy, they might have a contact who could turn out to be worth their weight in gold.
Dec 09, 2022 - Does your romantic partnership provide your life with meaningfulness? Does it connect you spiritually to something bigger than you, something that you believe in? These are good questions to reflect on today as the Moon is in Cancer and in your 9th house. It's…
Dec 09, 2022 - Do you feel spiritually connected to your job? This is a relevant theme to ponder over today as the Moon is in Cancer and in your 9th house. What are the things you can do that permit you to have a larger experience doing…
Dec 09, 2022 - You're ready to roll up your sleeves and crack on with what needs doing, Scorpio, so this is a fantastic day for cementing your finances and tying up any loose ends. A discussion about finances may cause some friction but certain things do need…
Dec 09, 2022 - You may feel more irritable than usual today, Scorpio. It's crucial that you create an outlet for this frustration, or you may end up taking it out on the people you love and care for. Try turning to creative expression, like painting or drawing,…
Dec 09, 2022 - Get out! Seriously, go! There are people waiting to meet you and if you'll let them they'll probably want to do more than just that. If you're wondering why there's a sudden boost in your popularity now, know that it is thanks to sensual…
More Horoscopes for Scorpio
You are looking for or needing harmony and balance in a situation when the Temperance card appears. But this is not a negative connotation. The Temperance card appears in the Tarot after The Death card, and this is sending us the call for balance and peace after a stressful situation. In most cases, the balance…
Let These Tarot Readings Help Guide You Through Your Day
Daily Gemstone & Crystal Reading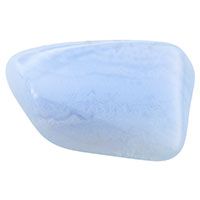 Blue Lace Agate assists with our ability to share and express. If you've been dealing with overwhelming feelings of anger, anxiety, or frustration and have been seeing increased conflict in multiple areas of your life, you might want to invest in this crystal. Its primary chakra is the Throat chakra,…