Scorpio Daily Horoscope: Yesterday

Mar 24, 2023 - It has probably felt like you've been waking up from a long nap for quite a while now. Every day you think you've finally emerged from your cocoon but no matter how hard you press against it you can't quite seem to rub all the sleep from your eyes.
Well, while those shades of dreamland might not disappear right away, the Universe is about to raise up the curtain on a new day and it looks like you're finally going to stretch, get out of bed, and really start living life again. Things aren't going to be majorly stressful or intense; in fact, it looks as though you'll enjoy all the new things life sends your way.
The important thing is to remember to take advantage of the opportunities presented to you and not let them fly away before you can manifest something major with their influence. You're so capable; make sure to show everyone that.
Mar 24, 2023 - Is it easy for you to be in relationship to others? Are you skilled in your diplomacy skills that are a necessary pillar in any healthy relationship? The Moon is in Taurus and in your 7th house. It is important that you know how…
Mar 24, 2023 - Bring your attention to your business partnerships. What's the nature of your relationships with those whom you work with? Today the Moon is in Taurus and in your 7th house. Can you afford to compromise more in your interactions with others? A necessary ingredient…
Mar 24, 2023 - It's time to get very clear on what your deep soul calling is. Ask yourself, how does this relate to my financial situation? When you are clear about what you need, then you are able to put your plans into action. Remember, it is…
Mar 24, 2023 - This planetary energy might create a stubborn energy within your body, Scorpio, making it harder for you to go with the flow and get along with others. Try taking a relaxing bubble bath to ease tension in the body and help the energy of…
Mar 24, 2023 - You've been living life half on the backburner, and while things can get a little warm back there they're never quite as hot as you like. Well, there good news is that soon enough your life is going to be hot-hot-hot, and you'll have…
More Horoscopes for Scorpio
You are looking for or needing harmony and balance in a situation when the Temperance card appears. But this is not a negative connotation. The Temperance card appears in the Tarot after The Death card, and this is sending us the call for balance and peace after a stressful situation. In most cases, the balance…
Let These Tarot Readings Help Guide You Through Your Day
Daily Gemstone & Crystal Reading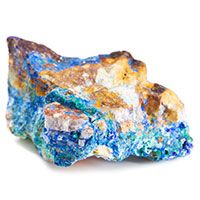 Azurite is known to help when we are dealing with emotional issues, confidence, and the feeling of impatience. Sometimes we lose touch with our ability to be kind and to feel comfortable within our own skin or within our surroundings. Sagittarius and Aquarius can feel particularly left out from time…