Scorpio Daily Horoscope: Yesterday

Sep 30, 2023 - Get to work and make it rain. There's an incredibly exciting alignment occurring in the skies overhead today and while each and every sign will benefit from one way or another, if you pay attention you can use this opportunity to boost yourself up at work and even earn some extra money while you're at it. Pleasure-loving Venus is moving through your ambitious 10th House of success, and today she's reaching out across the sky to the Moon in your efficient 6th House of work and wellness.
This trine merges these two heavenly bodies into a potential windfall, and you'll likely see this manifest in your workaday life. Since the 6th House is all about the 9-to-5 grind you could come across a lucrative new client or perhaps hire on a part-time assistant who pays for themselves with all their hard work. Anything is possible now, so reach for the stars because they will surely reach back at you with hands filled with bounty.
Sep 30, 2023 - Are you willing to do the necessary work that a relationship requires in order to actually thrive and succeed? The Moon is in Aries and in your 6th house. People quite often want relationships to be easy and go smoothly without actually having the…
Sep 30, 2023 - How disciplined are you in the way you go about your work? Are you able to maintain the focus necessary to take care of and manage all the details that need tending to? These are all questions to ask yourself today as the Moon…
Sep 30, 2023 - This lunar energy encourages you to focus now on your long-term goals and financial aspirations. List all the things you would like to see happen in 6 months time, along with a clear timeline of when you will achieve them by. Making this into…
Sep 30, 2023 - You may be feeling a strong desire for transformation and change during this time. Embrace this energy by working on personal development and growth. The crystal that can help you with this is obsidian, which can help you let go of negative emotions and…
Sep 30, 2023 - Careful about dipping your pen in the company ink. Just because you and your coworker have been enjoying your water cooler chat a little more than usual doesn't mean you need to try and shove your tongue down their throat… then again, if they're…
More Horoscopes for Scorpio
There is a definite feeling of being trapped when the 8 of Swords appears in your day or in your reading. This could be an issue of physical entrapment, such as with matters related to the law or justice, as Swords often deal with legal matters. But Swords also deal with thoughts and words, so…
Let These Tarot Readings Help Guide You Through Your Day
Daily Gemstone & Crystal Reading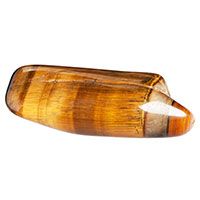 If we are looking to motivate ourselves to make a change or a commitment or are feeling depressed and self-critical, working with or keeping Golden Tiger's Eye near can provide protection and help us to find some sense of balance. Its warmth and brightness, both visually and vibrationally, can help…