Scorpio Sex Horoscope: Yesterday

Dec 02, 2022 - It could be a little difficult to get in the groove and pursue your desires on a day like today, but that doesn't mean it's impossible. The intuitive Moon is moving through your efficient 6th House of wellness and routine, so sex isn't exactly the universal subject at the moment.
Throughout the day la Luna will we be forming a number of powerful angles throughout the sky, most especially to the primal Sun. The center of our Universe is currently camped out in your work sector, so it looks like this day is going to be a little more proactive than usual.
Under this alignment I wouldn't be all that surprised if it feels like you're trying to drift through a fog every time you summon up a sultry thought, so my best advice would be to wait until sexier skies dawn on the horizon. Don't worry, they are coming, you can believe that.
More Horoscopes for Scorpio
There is a bit of a juggling act in play when the 2 of Pentacles appears in your reading. If you are seeing this today, the Tarot is telling you that you've got a lot going on. But this is a Minor Arcana card and not an Earth-shattering juggling act. You may have put a…
Let These Tarot Readings Help Guide You Through Your Day
Daily Gemstone & Crystal Reading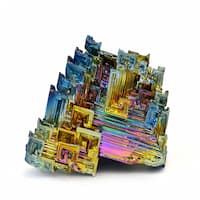 Bismuth is a beautiful multi-colored crystal that helps support transformation within the individual and brings a greater sense of confidence when working towards your hopes and dreams. It is especially helpful for teamwork and helps to relieve feelings of loneliness or being isolated. Bismuth is a Storm crystal and vibrates…