Capricorn Daily Horoscope: Yesterday

Dec 04, 2022 - Trying to push ahead with a plan could backfire today, Capricorn, and you could be the one left reeling when things don't plan out just as you'd hoped so careful how you flex your muscles right now.
There is a tense square occurring in the heavens above between the intuitive Moon in Aries and your 4th House of feelings and foundation, and power player Pluto in your sign and your 1st House of self-expression and action. Yes, you know what you're about and you know that you know best more often than not, but today people won't handle your usual stamina and drive as well as you might like, and that in turn will leave you far less than satisfied.
Take some time and sit on your plans for a while, ruminating on the best way to surge forward as opposed to just blindly barreling into the future without a proper plan to guide you.
Dec 04, 2022 - Do you feel it comes naturally to you to remain in touch with the fun and pleasurable parts of your romantic relationships? This is a good question to ask yourself today as the Moon is in Taurus and your 5th house of romance. It…
Dec 04, 2022 - Do you experience joy and pleasure at your job? Do you feel inspired doing what you do? As the Moon is in Taurus and in your 5th house of creative self-expression, these are relevant topics to meditate on. It is crucial that you find…
Dec 04, 2022 - A fresh idea or two may crop up which could bring financial income further down the line, so be sure not to ignore what springs to mind today, Capricorn. The Moon is prompting your energy within and empowering you; it is encouraging you to…
Dec 04, 2022 - There's more Earth energy in the air today, increasing your motivation and encouraging a grounded spirit, Capricorn. You may feel like focusing all of your energy on chores and hard work, however, it's also important to make time for rest and relaxation so you…
Dec 04, 2022 - Your emotions and desires could be at a cross purpose today, Capricorn, so gauge your feelings one step at a time as you go about your business. The Moon is moving through Aries and your foundational 4th House of home and deep feelings, so…
More Horoscopes for Capricorn
Let These Tarot Readings Help Guide You Through Your Day
Daily Gemstone & Crystal Reading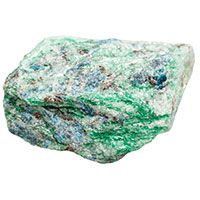 Fuchsite is often associated with healing, loving energy due to this green hue and its ties to the Heart chakra. This crystal allows us to find our inner light and release negative emotional energy, which allows those who use it to become more compassionate and forgiving in our relationships. Due…