Capricorn Daily Horoscope: Yesterday

Sep 30, 2023 - Romantic Venus is up to something rather special today so it is all but certain you'll feel her energy spiking through you even stronger than usual thanks to a rare alignment occurring in the heavens above.
The planet of pleasure is currently moving through your intense 8th House of big money, and today she will reach out across the heavens to form an alignment with the intuitive Moon in your foundational 4th House of home and family, combining these two into one powerhouse star.
You could hit upon an impressive new revenue stream when you least expect it, and perhaps it's a female relative or girlfriend who turns you onto the opportunity. Just make sure you don't get too wrapped up in what you're doing to see the money in front of you.
Sep 30, 2023 - Sometimes it is ok to just stay at home and cuddle with your loved one. The Moon is in Aries and in your 4th house. It is highlighting the necessity of allowing yourself to do that. We are quite conditioned in our society to…
Sep 30, 2023 - How much do you rest? Do you allow yourself downtime to replenish your energy? These are good questions to ask yourself today as the Moon is in Aries and in your 4th house. Do you get so caught up in working that you forget…
Sep 30, 2023 - Under this lunar energy, you are encouraged to find your inner peace. Ask yourself about your truest purpose and your passion. In what ways does your financial situation merge well or clash with your truest purpose? Are you on the right path? You do…
Sep 30, 2023 - You may feel like you're juggling a lot of responsibilities right now, Capricorn. Take some time to prioritize your tasks and delegate what you can. Carry or wear Labradorite to help you stay organized and focused. Eating foods high in Vitamin C, like citrus…
Sep 30, 2023 - Some people might be taking time off from the grind to huddle up, rest, and keep themselves safe, but restful isn't exactly the energy of today's stars, but then again you may just have to put one foot in front of the next until…
More Horoscopes for Capricorn
There is a definite feeling of being trapped when the 8 of Swords appears in your day or in your reading. This could be an issue of physical entrapment, such as with matters related to the law or justice, as Swords often deal with legal matters. But Swords also deal with thoughts and words, so…
Let These Tarot Readings Help Guide You Through Your Day
Daily Gemstone & Crystal Reading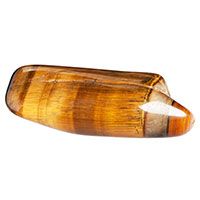 If we are looking to motivate ourselves to make a change or a commitment or are feeling depressed and self-critical, working with or keeping Golden Tiger's Eye near can provide protection and help us to find some sense of balance. Its warmth and brightness, both visually and vibrationally, can help…