Capricorn Daily Horoscope: Tomorrow

Mar 30, 2023 - There's a LOT happening in the sky today around your money sectors, so listen up because this is information you need to know. The intuitive Moon is currently moving through your intense 8th House of shared finances and other people's money; this is considered the most intense house in astrology, so don't be surprised if your feelings are spiking.
On top of this transit, la Luna will form an intense opposition throughout the day to revolutionary Pluto, parked in your 2nd House of earned income and material possessions. With so much energy spiking back and forth you might be ready to roll up your sleeves one minute, then the next you decide to put it all off and go treat yourself to an all-day spending spree.
That sounds like fun until you overdraft your account, so be circumspect with your finances.
Mar 30, 2023 - The Moon is in Cancer and in your 7th house of partnership today, however it is also trining Neptune in your 3rd house of communication. This is emphasizing the necessity of having honest, open and clear lines of communication open with your partner in…
Mar 30, 2023 - Bring your attention to your business partnerships. What's the nature of your relationships with those whom you work with? Today the Moon is in Cancer and in your 7th house. Can you afford to compromise more in your interactions with others? A necessary ingredient…
Mar 30, 2023 - Powerful changes to your finances are on the horizon, Capricorn, so today is about analyzing how things are going and thinking about the changes you can make on a personal level. If you came to realizations about your finances, this is a great time…
Mar 30, 2023 - Take some time to connect with your inner self today, Capricorn. Journaling, quiet reflection, or any other form of introspection can help you gain clarity and perspective. Try working with amethyst, a crystal that can help you tap into your intuition and connect with…
Mar 30, 2023 - Today has got intense written all over it, and you may be able to use it to your advantage provided you don't get waylaid with mundane tasks. The intuitive Moon is currently moving through your extreme 8th House of sexuality and intimacy; this is…
More Horoscopes for Capricorn
The 10 of Cups is a wonderful card to see in any reading, and when it shows up in your day, you are being given a message of pure love. For Yes/No questions today, the answer this loving card brings is an absolute YES. You are going to get what you want, and then some.…
Let These Tarot Readings Help Guide You Through Your Day
Daily Gemstone & Crystal Reading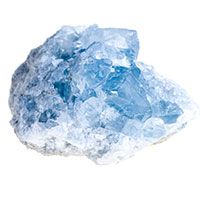 Celestite is a deeply spiritual crystal that helps to connect us to divine wisdom and supernatural forces within the cosmos. This is a crystal to use when you are strengthening your spiritual abilities. It is also a wonderful crystal for those exploring their clairvoyant or psychic abilities. It promotes inner…