Capricorn Daily Horoscope: Tomorrow

Dec 06, 2022 - This is going to be a really lovely day, Capricorn, and it wouldn't be at all surprising if work if just about the last thing on your mind right now. Yes, you could worry about your responsibilities and bills and all that but why bother when there are so many fun opportunities calling out to you?
The emotional Moon is moving through the last degrees of Taurus and your 5th House of fun and creativity, so unless you're an artist of some kind, work will probably feel like a real grind. This playful mood is bolstered by a harmonious alignment beaming across the sky from the Moon, who will send out a friendly message to abundant Jupiter in Pisces and your busy 3rd House, ensuring lots of people will be calling your name to come and have fun.
Days like this are rare, so you might as well enjoy it and get back to work tomorrow.
Dec 06, 2022 - The Moon is in Taurus and in your 5th house of romance today, however it is also trining Pluto in your 1st house of self. This configuration is highlighting the importance of remaining centered and fulfilled within yourself and being, especially in your romantic…
Dec 06, 2022 - Do you enjoy your work? Do you feel inspired in what you do? These are relevant questions to ponder as the Moon is in Taurus and in your 5th house of creative self-expression. Practice bringing more of your creative vision into your work. Otherwise,…
Dec 06, 2022 - The Moon is in Gemini and in your sixth house of work and health, Capricorn. This is a time when you are very focused on aspects around the home. You're practical today and keen to get things done. You may feel inclined to explore…
Dec 06, 2022 - Ideas may appear in your mind today, Capricorn, encouraging you to follow your thoughts and trust yourself. Try to pay special attention to your thoughts today, as you may receive flashes of insight. Starting the day with meditation will clear your mind. Lapis lazuli…
Dec 06, 2022 - Yes, yes, you came here looking for a sexy horoscope filled with potential pleasure, Capricorn, but don't shoot the messenger because that that isn't exactly what is written out in your personal planetary program for the day. The intuitive Moon is roving through Gemini…
More Horoscopes for Capricorn
Let These Tarot Readings Help Guide You Through Your Day
Daily Gemstone & Crystal Reading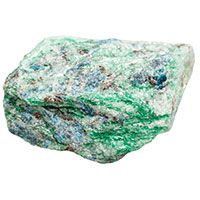 Fuchsite is often associated with healing, loving energy due to this green hue and its ties to the Heart chakra. This crystal allows us to find our inner light and release negative emotional energy, which allows those who use it to become more compassionate and forgiving in our relationships. Due…