capricorn Monthly Horoscope


For the Month of: April 2023
April - Here comes April, beautiful Capricorn. The Sun continues to blaze through your home and family sector, emphasizing private matters. You may find yourself feeling more confident and assertive, ready to tackle any challenge that comes your way. You have the mental clarity and sharpness of mind to cut through any confusion or doubt and to see things with a new perspective. The road ahead is not always easy, but you can overcome anything with your practicality, determination, and newfound clarity of mind.
On April 3, speedy Mercury heads into Taurus to put a little pep into your relationship or romantic flings. Expect your words dripping with honey, your wit to be on point, and your flirting game to be strong. This transit is like having a silver tongue dipped in gold, and you'll be able to sweet-talk your way into all sorts of delicious situations. But be warned, this energy can be a bit stubborn and possessive, so ensure you're not overstepping any boundaries with your smooth talk.
The Full Moon in Libra arrives on April 5, and it's time to put on your finest threads, dust off your power suit, and get ready to shine like the star you are. A Full Moon represents a peak in the Lunar cycle, where the Moon rises high above the horizon, casting a mystical glow that stirs your imagination and soul. In addition, this Full Moon activates your career sector, so you can expect your professional life to take center stage. And just when you thought things couldn't get any better, Mercury slides in and spices things up with a sextile to Saturn. Your communication skills will be top-notch, and you can easily articulate your ideas and goals. It's like having a direct line to the universe.
It feels like a cosmic playground when Venus enters Gemini on April 10; with this placement, you'll feel extra flirty and social, and your work relationships will surely get a boost. So balance these energies if you find yourself mixing business with pleasure.
But hold on because Saturn decides to get in on the action the next day by connecting with the South Node. This transit is excellent for tying up loose ends and finishing up old projects; make sure you're not holding onto outdated ways of thinking. Then, on April 14, Venus decides to clash with Saturn, which could lead to conflicts between your desire for pleasure and your sense of responsibility. Remember to find a happy medium between having fun and completing your work.
The Solar eclipse in Aries arrives on April 19 and blasts onto the scene, igniting a spark of energy that will make you feel like a warrior in your home. This Lunation is a time for fresh starts and new beginnings, particularly regarding your family life and living situation. As a result, you may feel an urge to take charge and make some changes, whether that means redecorating your space or setting some boundaries with your loved ones. But be warned; this eclipse is not for the faint of heart. Aries is a fiery sign about action and taking risks, so be prepared to step outside your comfort zone and seize the day.
On April 20, the Sun enters Taurus, bringing a wave of creativity, playfulness, and romance. You'll feel extra sensual and luxurious, with a deep appreciation for the finer things in life. But don't get too comfortable just yet because Mercury is about to go retrograde in Taurus, and this could throw a wrench in your plans for love and leisure, with miscommunications and technical difficulties potentially causing some hiccups. Don't panic, though. Instead, use this time to slow down and reflect, review your projects and relationships, and reevaluate your priorities.
Finally, the month ends with the Sun approaching a conjunction with the North Node, highlighting the areas in your lives that are calling for growth and evolution. It's time to take risks, trusting that the universe has your back. A Sun-Saturn sextile on the 25th will bring stabilizing energy to the mix. Trust that the universe has a plan and that you are exactly where you need to be.
This month, use cedarwood and rosemary essential oil to provide grounding and inspiration.
April's Affirmation, "I am grounded in my inner strength and wisdom. I trust that the universe is guiding me towards my highest good."
Make sure to check back every month to get your personalized astrological insight from our experts.
Want more information about your own personal astrology? Discover more about your zodiac sign, monthly transits, and your birth chart through our free resources.
Get Your Free Horoscopes Here
It's time to sit back, relax, and enjoy the fruits of your labours when the 9 of Pentacles arrives. We see a woman dressed in lush attire in a garden surrounded by beauty. She has a bird perched on her hand as if she is the calmest creature in the world. In this sense, she…
Let These Tarot Readings Help Guide You Through Your Day
Daily Gemstone & Crystal Reading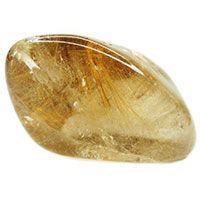 The "rutile" part of Rutilated Quartz refers to the black or reddish-brown needle-like mineral that runs through it. Due to the nature of its composition, it represents balance and duality.  We may forget that, more often than not, we are capable of helping ourselves through our own problems and may…