capricorn Monthly Horoscope


For the Month of: January 2023
January - Welcome to the first month of the year, darling Capricorn. Last month started your season, along with a New Moon in your sign that was ripe for setting New Year's resolutions. Although Mercury retrograde is moving through your sign, resulting in minor mishaps. It's still your birthday season, and the month ahead predicts abundance, health, and love, leading you toward a steady stream of fulfillment.
The month starts with Venus moving into Aquarius on January 2, activating the sector of your chart that rules energy, finances, and resources. Romantic interests may arise through intellectual communication, and connections with people from other backgrounds will occur unexpectedly. Expect networking to boost and present new ideas or opportunities to turn a hobby into cash.
The first Full Moon of the year arrives on January 6 in your opposite sign, Cancer. Full Moons are magical times to release, set intentions, and close old doors. This Full Moon indicates a significant turning point for you, prompting you to consider if your lifestyle aligns with who you are. Expect a text from an ex-friend or former lover that will send you back down memory lane. Attention is on your home life, so lean into your Cancerian side, stay, cook, order your favorite food, take a nice bath, and set positive intentions for emotional boundaries and stability in the year ahead.
Mars, the planet of action and motivation, ends its retrograde on January 12 after moving backward for about nine weeks. Whatever inner work Mars RX in Gemini revealed is information you can use to push yourself forward. 2022 has brought much-needed change to your life, and now you have a blank canvas of possibility ahead of you. Expect a new wave of energy and a burst of inspiration.
Then, a Venus-Uranus square on January 14 challenges your needs for stability and freedom in relationships. However, chatty Mercury finally goes direct in your sign on January 18, and you can expect communication issues to resolve.
On January 20, the Sun enters Aquarius, activating your financial world. Naturally, there's a strong desire to pour all your energy into your work and finances. However, you may want to find a healthy balance when going overboard with the pocketbook.
The next day brings a lucky New Moon in Aquarius that is ripe for manifesting your dreams and wishes for the year ahead. Since a New Moon represents the start of a brand-new Lunar cycle, this is the first New Moon of 2023. The energies urge you to take an unconventional approach to manifest your goals and handle business affairs. You may also find yourself digging deeper and questioning your self-worth. Remember, Capricorn, you deserve all you desire, and it's time to own it.
Finally, the month ends with Uranus going direct into fellow Earth sign, Taurus, on January 22. Expect a significant creative shift, with all signs pointing toward everything coming together. You can also expect unpredictable changes to happen that will most likely manifest in your love affairs and romantic relationships.
Lastly, Venus enters Pisces on January 26, bringing a little sweetness to your life. Venus in Pisces is compassionate, tender, and affectionate. Taking a little break is all you need to enjoy leisure time with friends and family.
Overall, January is packed with illumination, enlightenment, and the need to balance your professional and personal life. Happy January!
January's affirmation, "I use my resources and experiences to enrich and expand the resources of others. I am in the process of manifesting my own value and living from the heart."
Make sure to check back every month to get your personalized astrological insight from our experts.
Want more information about your own personal astrology? Discover more about your zodiac sign, monthly transits, and your birth chart through our free resources.
Get Your Free Horoscopes Here
Let These Tarot Readings Help Guide You Through Your Day
Daily Gemstone & Crystal Reading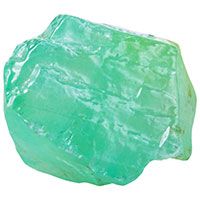 Because its primary chakra is the Heart chakra, working with Green Calcite can strengthen our connection You could also create an "Opportunity Elixir" by infusing your drink with Green Aventurine. Place a small (clean) chunk in your water or tea and let it soak for 30 minutes or more. The…