capricorn Monthly Horoscope


For the Month of: January 2024
January - Happy Birthday, Capricorn! Welcome to 2024! Can you believe it's a brand-new year? And what an excellent way to start the year off, celebrating and giving thanks for another chapter. The month ahead brings love, new relationships, compassion, intuition, and overcoming repressed emotions. This is the time to finally step out of your comfort zone and take bold risks. Whether it be the blossoming or strengthening of bonds, this is about filling every cell in your body with divine love and connecting with others on the same frequency. Send love to yourself first, and step out into the world!
Mercury kicks off the month by turning direct on January 1, ushering in a period of increased clarity and communicative efficiency in matters related to the subconscious, spirituality, and hidden aspects of life. To let love in, the energy promotes a more direct and unobstructed flow of communication with the self, allowing for a deeper understanding of one's motivations, fears, and aspirations that may have previously been concealed or overlooked.
Mars enters your sign on January 4, a week before a New Moon in your sign. During this transit, you'll experience heightened determination, discipline, and a strong desire to pursue goals with unwavering focus. Mars in your sign is known for its strategic and methodical approach to objectives. During this period, it will be essential to harness constructive aspects by channeling energies into well-defined and meaningful pursuits.
Get ready for a solid start to the year as a New Moon arrives in your sign on January 11. This brings powerful manifesting vibes that will shape not only this month but also set the tone for the whole year. This New Moon is like a cosmic green light for new beginnings. Think about your career, personal growth, and long-term plans – it's time to seed your aspirations. The energy from this lunar event will fuel your drive throughout January. You'll feel a strong sense of purpose, pushing you to make practical decisions that lead you toward your objectives. The foundation you build now has the potential to bring lasting results.
A few days later, Mercury returns to your sign, bringing fresh air and clearing up any lingering issues from last December. With Mercury in Capricorn, your communication game gets stronger. You'll find it easier to express yourself, and any misunderstandings or hiccups from the past can now be sorted with clarity. Take advantage of this period to tie up loose ends, have meaningful conversations, and ensure your plans are on solid ground.
On the 20th, a power-packed alignment happens as the Sun and Pluto join forces in your sign. Shortly after, they both move into Aquarius, bringing some interesting shifts. Now, with the Sun in Aquarius lighting up your financial sector, your focus turns to finances and values. It's a good time to think about your money, your budget, and what truly matters to you.
Simultaneously, Pluto intensifies your approach to money and self-worth. You might feel the drive to transform your financial situation or reassess your values. This can be a powerful time for letting go of what no longer serves you and building a more authentic foundation.
Get ready for an extra dose of passion, because Venus is stepping into your sign, making it feel like an extended birthday celebration. With Venus in your sign, everything gets charm and allure. You'll find that people are drawn to your magnetic energy, and your personal style gets an extra boost. This is your time to indulge in self-love and treat yourself to things that make you feel good. Whether you're single or partnered up, it's an ideal time to enjoy love and express affection. You might even attract positive attention and admiration.
The first Full Moon of the calendar year arrives in the sector of intimacy, transformation, and shared resources. The full moon in Leo signifies heightened excitement and intensity. Leo's bold and expressive nature brings drama and enthusiasm to matters related to deep connections, shared experiences, and matters of the heart. The Full Moon encourages building meaningful connections, both emotionally and physically, cultivating a sense of closeness and passion.
Overall, this is a time of heightened emotions, excitement, and deepening connections. Express your desires, and find joy in shared experiences that bring pleasure and fulfillment.
Wrapping up the month, Uranus shifts the energy moving direct in Taurus on January 27. When Uranus turns direct, it signals a time for breaking free from stagnant patterns or limitations. In the realm of self-expression, you may feel a heightened desire for individuality and a willingness to embrace your unique qualities. This can lead to creative inspiration and a more liberated approach to expressing your authentic self.
In matters of romance and relationships, Uranus direct can bring unexpected and exciting developments. It encourages a more spontaneous and adventurous attitude, opening the door to new experiences and a fresh perspective on matters of the heart. If any constraints or routines were limiting your romantic life, this shift allows for a more dynamic and unpredictable chapter.
In conclusion, this month is about creative upgrades in all areas of your life. If you find yourself stagnant or blocking the flow of love. Retreat and tune inwards.
Self-care tip: Prioritize some quiet time for yourself. Whether it's through meditation, journaling, or finding a peaceful spot, take moments to be alone and reflect. Think of it as a powerful act of self-care, a way to stay grounded and centered as you navigate the month's challenges.
January's affirmation: "I attract success, joy, and abundance into my life. My thoughts and actions align with my goals, creating a path of fulfillment and prosperity.
Make sure to check back every month to get your personalized astrological insight from our experts.
Want more information about your own personal astrology? Discover more about your zodiac sign, monthly transits, and your birth chart through our free resources.
Get Your Free Horoscopes Here
An ending to a situation is arriving when the Death card appears. This card is one that is enough to send shivers to anyone calling on the Tarot for answers, but it's always important to note the Sun present in this card. Regardless of the question you are consulting the Tarot with today, the answer…
Let These Tarot Readings Help Guide You Through Your Day
Daily Gemstone & Crystal Reading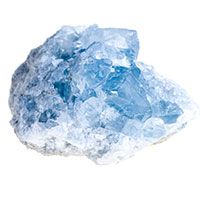 Celestite is a deeply spiritual crystal that helps to connect us to divine wisdom and supernatural forces within the cosmos. This is a crystal to use when you are strengthening your spiritual abilities. It is also a wonderful crystal for those exploring their clairvoyant or psychic abilities. It promotes inner…