Pisces Daily Horoscope: Tomorrow

Mar 26, 2023 - You may not always be the first sign of the zodiac that's raring to roll up your sleeves and get to work, but it seems that today you may find yourself more primed than usual to make things happen, which will be especially easy thanks to the helpful angles overhead.
The Sun is currently moving through Aries and your 2nd House of earned income and material possessions, and while she's there she'll reach out across the sky to the intuitive Moon in Gemini and your foundational 4th House of home and feelings.
Under such a transit you're keyed in to make things happen, regardless of whether there is a lot or little work on your plate. If anyone can figure out how to use this transit to their advantage it would be you, Pisces, so don't let this energy pass by without giving it your best.
Mar 26, 2023 - Do you know how to just relax with your partner at home and still manage to enjoy yourself just as much as if you were to go out and do something fun? Is it easy or hard for you to be in stillness with…
Mar 26, 2023 - How much do you rest? Do you allow yourself downtime to replenish your energy? These are good questions to ask yourself today as the Moon is in Gemini and in your 4th house. Do you get so caught up in working that you forget…
Mar 26, 2023 - This Moon helps you understand that true security and stability come from the inside. Sometimes the material world can fill this void but this is temporary and unfulfilling in the long term. Material gain is complementary to happiness but it is not the reason.…
Mar 26, 2023 - This planetary energy can make it easier for you to stand up for yourself today, Pisces, but it can also cause conflicts within your relationships. To encourage balance and harmony in relationships, try breathing deep and practicing positive affirmations when you feel tense or…
Mar 26, 2023 - This probably won't be the horoscope you were hoping for, but it would seem that the stars are pointing you in the direction of mundane matters today, rather than anything hot and steamy. The Sun is moving through your 2nd House of earned income…
More Horoscopes for Pisces
You are looking for or needing harmony and balance in a situation when the Temperance card appears. But this is not a negative connotation. The Temperance card appears in the Tarot after The Death card, and this is sending us the call for balance and peace after a stressful situation. In most cases, the balance…
Let These Tarot Readings Help Guide You Through Your Day
Daily Gemstone & Crystal Reading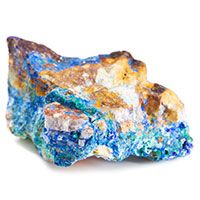 Azurite is known to help when we are dealing with emotional issues, confidence, and the feeling of impatience. Sometimes we lose touch with our ability to be kind and to feel comfortable within our own skin or within our surroundings. Sagittarius and Aquarius can feel particularly left out from time…