Pisces Daily Horoscope: Tomorrow

Sep 27, 2023 - You could harness some major power today, Pisces, so if it feels as though someone has placed the Universal reins in your hand, well, don't be too surprised.
The Moon is moving through your sign and your 1stHouse of self-expression and action for the day and while she's here she will be turning her attention to YOU and making sure you have everything you need to progress smoothly. This is always a wonderful time for doubling down on what it is you really want, but there will be no room for questions today as la Luna will conjunct hardworking Saturn in this same sector of your chart.
These heavenly heavy-hitters aren't here to mess around, so roll up your sleeves and get to work because whatever you focus on could have lasting repercussions as well as lasting rewards.
Sep 27, 2023 - The Moon is in Pisces and in your 1st house of self today, this is emphasizing the importance of self-love within your romantic partnerships. Is it easy for you to remember that you are just as important and worthy of taking care of your…
Sep 27, 2023 - The Moon is in Pisces and in your 1st house of self. This is asking you to get more in touch with your confidence and ability to take initiative to make what you want to happen. The way we hold and present ourselves creates…
Sep 27, 2023 - Today is about thinking outside the box and transforming your thought patterns so it's time to reach onto your creativity and adopt a new way of doing things. Keeping an open mind is important. The more you keep your mind open, the more you…
Sep 27, 2023 - The Moon in Pisces may bring about a sense of emotional clarity and heightened intuition. This is an excellent time for self-reflection and self-care. Take time to nurture your body, mind, and soul through activities such as spa treatments, restorative yoga, or spiritual rituals.…
Sep 27, 2023 - You've got a handle on your desires, and for lack of a better phrase ain't nobody can tell you nothin' right now. The intuitive Moon is spending the day moving through your sign and your 1st House of self-expression and action, so your desires…
More Horoscopes for Pisces
The 6 of Pentacles is another one of those dreaded "stage" cards in the Tarot. But it's not to be dreaded, really. The Tarot always tells us what we need to hear. A "stage" card in Tarot is when there is a line at the midpoint of the card that illustrates a grey area. This…
Let These Tarot Readings Help Guide You Through Your Day
Daily Gemstone & Crystal Reading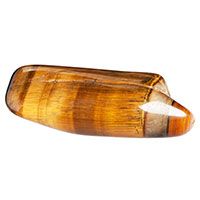 If we are looking to motivate ourselves to make a change or a commitment or are feeling depressed and self-critical, working with or keeping Golden Tiger's Eye near can provide protection and help us to find some sense of balance. Its warmth and brightness, both visually and vibrationally, can help…