Pisces Daily Horoscope: Tomorrow

Dec 06, 2022 - Don't force anything today, Pisces; in fact, why not take today off from the grind to give yourself some rest and tend to other matters that don't entirely revolve around work and finances?
The intuitive Moon spends the day sailing into mercurial Gemini and your foundational 4th House, so this is the perfect time to focus in on your emotional needs and tend to them so that you can be on top of your A game when the Moon moves into more productive realms in a few days' time. There is an especially elegant angle flowing between Venus and Mercury, and the Moon will bring both of these players into the picture so while it is indeed an 'average Tuesday' it actually has the ability to be so much more.
Go with the flow in the way only a Pisces truly can, and you'll find yourself winding up somewhere very special. What more could you ask for?
Dec 06, 2022 - The Moon is in Taurus and in your 3rd house of communication today, and it is also trining Pluto in your 11th house. This aspect between the planets is emphasizing the importance of having a strong sense of friendship between you and your lover,…
Dec 06, 2022 - How good are you at expressing your ideas to others? Do you feel skillful in your communication abilities at work? The Moon is in Taurus and in your 3rd house and these are all questions to meditate on. Communication can truly be everything sometimes.…
Dec 06, 2022 - The Moon is in Aquarius and it's quite a contemplative day for you, Pisces. Today is about thinking of how your spiritual and material worlds merge as one. Is there an imbalance between the two? Think about how you can thrive in the coming…
Dec 06, 2022 - You may feel more serious than usual today, Pisces, making it harder for you to have fun and relax. It may benefit you to focus on your chores, allowing you to release any tension through hard work. Getting things done will also help your…
Dec 06, 2022 - This is going to be a rather quiet day for you, Pisces, so take that truism at face value and don't try to push anything. The intuitive Moon is sailing into Gemini and your foundational 4th House, so today is the perfect time to…
More Horoscopes for Pisces
Let These Tarot Readings Help Guide You Through Your Day
Daily Gemstone & Crystal Reading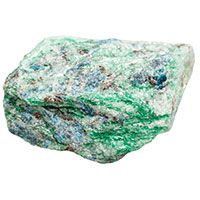 Fuchsite is often associated with healing, loving energy due to this green hue and its ties to the Heart chakra. This crystal allows us to find our inner light and release negative emotional energy, which allows those who use it to become more compassionate and forgiving in our relationships. Due…