For the Month of: June 2023
June - As the Sun warms up the waters this June, beautiful Pisces, it's time to trade in those fuzzy blankets for beach towels. Get ready to soak up the sunshine. This month is about embracing bold and adventurous energy by diving into exciting experiences. Last month's lunar eclipse in fellow water sign Scorpio pushed you to higher levels of transformation. You may have felt like a beautiful mermaid shedding old skin and emerging with a shiny glowing tail. Well, that shiny, updated tail is ready to face the waves this month.
The month begins with Jupiter joining the North Node in Taurus on June 1, and it's like the universe is waving its magic wand and turning everyday tasks into delightful adventures. Suddenly, even the most mundane activities become opportunities to learn and grow. You'll zip through to-do lists quickly and enjoy the journey.
Two days later, a Full Moon in fiery Sagittarius illuminates your professional sector. This lunation marks the culmination of a work project or a long-standing business goal, and you're about to bask in the glory of your diligent work. The Full Moon is like a spotlight that illuminates everything. It's like a magnifying glass that amplifies the energy around you. You might feel on an emotional rollercoaster, but that's okay. Embrace the highs and lows, and let them fuel your creativity and intuition.
There is a better time to second-guess yourself or your abilities. Trust that you've done everything possible to reach this point and that the universe has your back. Free yourself of doubts and fears, and let the Full Moon wash them away.
And as if that wasn't enough, Venus enters bold Leo on June 5 and brings energy to your daily life. However, this is not your average cup of tea; this double espresso shot will give you the boost you need to tackle your to-do list confidently and passionately.
Mercury, the communication planet, enters its ruling sign Gemini on June 11. A New Moon follows this in Gemini and Saturn, going retrograde in your sign on June 17. This may sound like a lot, but you must trust the cosmic alignments are in your favor. So, set new intentions, plant new seeds, and make new connections with your loved ones. For example, you could start working on a home improvement project, plan a family vacation, or have a heart-to-heart conversation with a family member.
Saturn retrograde will allow you to review your goals, values, and priorities. You'll be able to let go of old patterns, beliefs, and habits that no longer serve you and create new ones that align with your authentic self.
Celebrate and focus on your self-growth, healing, and transformation. You might feel nostalgic or reflective, but that's okay. Instead, take this time to connect with your inner child, wisdom, and light. You'll emerge stronger, wiser, and more aligned with your true purpose from this period.
It's time to let your hair down, kick off your shoes, and embrace life, because the Sun enters Cancer on June 20, marking the start of the Summer solstice. Cancer is the sign of home, family, and emotions; you'll feel right at home in this energy. You might feel more sentimental, nurturing, and intuitive than usual and enjoy spending time with your loved ones. The summer solstice is also a time of abundance and manifestation. You might notice an increase in creativity, productivity, and prosperity. You can attract new opportunities, friends, and adventures into your life.
The end of the month brings cosmic surprises when Mercury enters Cancer on June 26 and Neptune turns retrograde on June 30. Mercury in Cancer brings a powerful message from a romantic interest. From a possible confession, a heartfelt apology, or a sweet invitation. Whatever it is, it will tug at your heartstrings and make you feel alive.
But wait, there's more! Neptune, your ruling planet, goes retrograde on the 30th in your sign. It may sound intense, but it's a time of inner reflection, healing, and spiritual growth. You'll be able to connect with your intuition, your dreams, and your higher self.
June asks you to trust in the road ahead. With any upcoming venture, there may also be uncertainty and fear of the unknown. Trust your instincts, and don't be afraid to ask for help or guidance when needed. To boost your energy levels this month, use lemon essential oil and a citrine crystal to attract abundance.
June's mantra, "I trust in my abilities and embrace the unknown with curiosity and confidence. With every step forward, I am supported by the universe."
Make sure to check back every month to get your personalized astrological insight from our experts.
Want more information about your own personal astrology? Discover more about your zodiac sign, monthly transits, and your birth chart through our free resources.
Get Your Free Horoscopes Here
It's a new day! Literally, in some cases, when The Sun card arrives. But The Sun also represents a new day in your situation you are asking the Tarot about today. Major Arcana cards can be quite ambiguous when it comes to timing, and generally, the meaning of time when Major Arcana cards arrive is…
Let These Tarot Readings Help Guide You Through Your Day
Daily Gemstone & Crystal Reading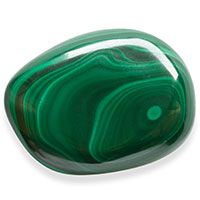 Malachite is most beloved for its healing properties and confidence-boosting reputation. Malachite offers protective and healing qualities, amplifying any change we wish to make in our lives.  This particular crystal is helpful for the intense signs of Scorpio and Capricorn who benefit from personal exploration.  Its primary chakra is our…