For the Month of: May 2023
May - Learning from failure was the number one lesson in 2021; now, a brand-new month and a brand-new year here, full of opportunities to bring creative projects and ventures to life. A new awareness is coming online, welcoming health, happiness, and wealth into your life. Procrastination is not your best friend, so stay focused and discover how to turn your dreams into reality. 
January's New Moon is in the ambitious and resourceful Earth sign Capricorn on the 2nd. New Moons represent the start of a new lunar cycle, a magical time to release and set intentions. Pisces Risings, the New Moon in Capricorn, transits through your 11th house of hopes, wishes, dreams, and groups. This energy suggests that you may need to be more disciplined to make your dreams come true. Surround yourself with positive, motivating, and reliable people to help provide you with the trust and support you deserve and need. 
Venus and Neptune make it a favorable period to reevaluate finances and your friendship circle on the 5th. You may find yourself in more of a relaxed mood under this energy. Mercury, the planet of communication, travel, the mind, and technology, stations retrograde in Aquarius on the 14th. For the next three weeks, you can expect to need to rest and retreat to come on quite strong.
You officially are 60 degrees away from your Solar Return, and this proves to be the perfect opportunity to take some time out and listen to your inner voice with powerful words of wisdom. Tap into meditation, yoga, and writing. 
Full Moons act as magical peaks in the lunar cycles, a time of celebration, release, and victory. January's Full Moon takes place on the 17th in fellow Water sign Cancer. You will feel emotionally fulfilled when spending time with children, engaging in domestic hobbies, and doing things you love. Pisces Risings, the Full Moon in Cancer will move through your 5th house of entertainment, children, and romance, making an ideal time for fun and self-expression. Feed your inner child love and light.
Uranus is known as the great awakener, the planet that comes dashing in with surprises and sudden changes. Currently in Taurus until 2026, Uranus is focused on shifting your beliefs and ideas on values, worth, self-image, and confidence. Then, on the 18th, Uranus stations direct in Taurus, prompting sudden awakenings and opportunities to express yourself. As a result, you may feel mentally restless, so it's crucial to ground yourself in a healthy routine. 
The Sun enters Aquarius on the 19th, and you may feel out of whack or disconnected from emotions. Although the energies may seem uneasy, understanding the value of where and what you put your time and energy into will help achieve success and yield long-term results. 
Mars, the intensely passionate planet, moves into Capricorn, and this is precisely the type of energy where Mars thrives. You feel the urge to dream, create, and plan. Use this energy to connect with close friends and network. Mars will add the right amount of fire to manifest goals, but it's up to you to take a different approach to situations. You will want to understand how your beliefs shape your goals and how those goals shape your life. So, could you give it a go and see what unfolds?
Venus is the goddess of affection, beauty, love, and romance. She stations direct in Capricorn on the 29th after an eventful retrograde. Venus speaks to how we express our desires, make decisions, our self-worth, and our values. Now direct, it is time to be you, to be bold, and to be true. Go after your passions. With the right amount of courage and dedication, your dreams are sure to come true. 
January energy tip, don't let boredom pull you into chaos or self-sabotaging behaviors. Instead, be patient; stick with each task at hand long enough for you to bear the fruits of labor.
Make sure to check back every month to get your personalized astrological insight from our experts.
Want more information about your own personal astrology? Discover more about your zodiac sign, monthly transits, and your birth chart through our free resources.
Get Your Free Horoscopes Here
On the one hand, the Knight of Pentacles is in no rush, not in a hurry to get anywhere. But on the other, the road ahead of the Knight and the red laurels on his dress and horse indicate he is ambitious and has a bright future ahead. When the Knight of Pentacles appears, the…
Let These Tarot Readings Help Guide You Through Your Day
Daily Gemstone & Crystal Reading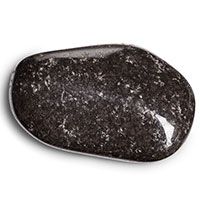 Known for its properties of encouragement, strength, and protection, Onyx connects very closely to our primary chakra, the Root chakra. This is because both Onyx and our Root chakra connect to our sense of safety, security, and our physical identity or sense of self.  The properties of this crystal are…