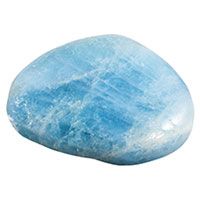 Affirmation(s): "My heart and head are in harmony."
Calming, protective Aquamarine encourages openness and improves communication skills, making it a little bit easier to let people see your vulnerable side. This stone reduces fear and helps you feel more balanced when opening up to others.
If you feel angry and aggressive or "seeing red," as it were, we can look to Aquamarine to center our thoughts and calm our ruffled emotions.
This is a Water stone that vibrates with the same energy as Aquarius.
Its primary chakra is the Heart chakra, and it is useful to remember that when your heart is clear, it is easier to communicate and get to the source of any suffering or frustration.
Wear the color of Aquamarine or have a stone set into jewelry to feel its protective qualities.