Pisces Sex Horoscope: Yesterday

Sep 30, 2023 - Your mind is going to be in a lot of different places today, and while on the outside the forecast might not look very sensual don't write anything off just yet. Romantic Venus and the intuitive Moon are coming together in your grounded 2nd House of finances and your 6th House of work for their bi-monthly meet up and today definitely doesn't read like a romance novel at first, but hold up.
Venus and la Luna are a super powerful combo, so even if they are merged in your money and work zones that doesn't mean romance is dead; you could find yourself attracted to someone far more stable than usual, so open your mind and maybe your pants if you feel like it. Something tells me that under today's stars nearly anything is possible, so don't write off a good thing because it looks a little less than exciting.
More Horoscopes for Pisces
There is a definite feeling of being trapped when the 8 of Swords appears in your day or in your reading. This could be an issue of physical entrapment, such as with matters related to the law or justice, as Swords often deal with legal matters. But Swords also deal with thoughts and words, so…
Let These Tarot Readings Help Guide You Through Your Day
Daily Gemstone & Crystal Reading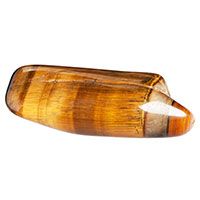 If we are looking to motivate ourselves to make a change or a commitment or are feeling depressed and self-critical, working with or keeping Golden Tiger's Eye near can provide protection and help us to find some sense of balance. Its warmth and brightness, both visually and vibrationally, can help…