Oct 01, 2023 - This could wind up being one of the most fun and fabulous days you've experienced in some time, so if you've got work to tend to and responsibilities to answer for, well, do your best to see to them first thing and get your plate cleared of any projects because there is a much better feast waiting for you out in the world.
The Moon is currently touring through your buzzy 3rd House of local communities and communications, and thanks to a powerful conjunction with lucky Jupiter in this same sector of your chart, I can safely say this day has five-stars when it comes to romance and getting frisky.
If you have someone in mind you'd like to share this energy with that's wonderful, but singles will have just as much luck finding a new partner under these stars, so no matter your situation don't waste it!
More Horoscopes for Pisces
There is a definite feeling of being trapped when the 8 of Swords appears in your day or in your reading. This could be an issue of physical entrapment, such as with matters related to the law or justice, as Swords often deal with legal matters. But Swords also deal with thoughts and words, so…
Let These Tarot Readings Help Guide You Through Your Day
Daily Gemstone & Crystal Reading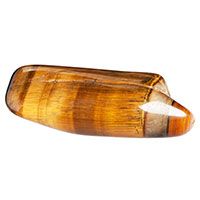 If we are looking to motivate ourselves to make a change or a commitment or are feeling depressed and self-critical, working with or keeping Golden Tiger's Eye near can provide protection and help us to find some sense of balance. Its warmth and brightness, both visually and vibrationally, can help…