Pisces Daily Horoscope: Yesterday

Jun 02, 2023 - Put your money where your mouth is, and bet on Numero Uno today! The intuitive Moon and pleasure-loving Venus are coming together in the most exciting parts of your charts to deliver you a day of fun and possibilities you don't want to miss out on.
Venus is in the midst of her tour of your 5th House of passion and creativity, and this sector of your chart also rules over gambling, so if the opportunity to put yourself front and center comes up don't turn it down. You can sometimes choose to occupy the wallflower position, but today that's the last place you should be.
The Moon will be reaching out from your adventurous 9th House of foreign cultures and broadening horizons, so it will be impossible to hide away on a day like this. If there's some plan or project you've been wanting to put in motion go ahead and get started!
Jun 02, 2023 - Do your romantic relationships provide your life with a sense of meaning? Do you feel spiritually fulfilled through them? The Moon is in Scorpio and in your 9th house and is inviting you to reflect on these questions. Relationships are so much stronger when…
Jun 02, 2023 - The Moon is in Scorpio today and in your 9th house. Do you feel spiritually fulfilled at what you do? Does it connect you to something bigger than you? Does it provide your life with meaning? These are all relevant questions to reflect on…
Jun 02, 2023 - Today is an excellent day of communication for you, Pisces, and you are encouraged to find harmony in regard to financial matters today. Think about what you truly want and go for it. Obstacles may stand in your way but you have the power…
Jun 02, 2023 - You may be feeling a bit emotionally sensitive during this time, Pisces. It's important to practice self-compassion and take time for self-care. Try doing some gentle yoga or taking a long walk in nature to help ground yourself. Carry or wear Rose Quartz to…
Jun 02, 2023 - Look at you go! No one can dim your flame on a day like this. The intuitive Moon and romantic Venus are coming together in a harmonious trine across the most pleasure-loving parts of your charts to deliver you a day brimming with romantic…
More Horoscopes for Pisces
The King of Swords is not the guy you want to be on the wrong side of, but if you have his loyalty or appreciation, he's a good guy to have on your team. Often considered the highest leader of the court cards, he mixes the Fire element with his King status and the Air…
Let These Tarot Readings Help Guide You Through Your Day
Daily Gemstone & Crystal Reading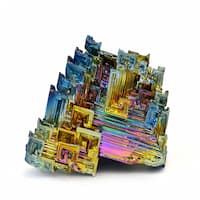 Bismuth is a beautiful multi-colored crystal that helps support transformation within the individual and brings a greater sense of confidence when working towards your hopes and dreams. It is especially helpful for teamwork and helps to relieve feelings of loneliness or being isolated. Bismuth is a Storm crystal and vibrates…