Pisces Daily Horoscope: Yesterday

Dec 08, 2022 - You're in the midst of a professional upswing at the moment, thanks to beautifying Venus moving through your 10th House of career advancement and ambition. With the goddess of love and pleasure hanging out here everyone will be impressed with you and your achievements, so don't be surprised if you find yourself finally raking in your just rewards for a job well done.
Today, however, probably won't be the day to ask for a raise; the Moon will be moving through your foundational 4th House, putting your emotions on high alert, and throughout she's forming a tough opposition with Venus, making it difficult for people to see the good in your message. Hold off on your pitches and presentations for a day or two then come back to the issue when the planets are more likely to favor your success; you'll be glad you took the time to be patient.
Dec 08, 2022 - Sometimes it is ok to just stay at home and cuddle with your loved one. The Moon is in Gemini and in your 4th house. It is highlighting the necessity of allowing yourself to do that. We are quite conditioned in our society to…
Dec 08, 2022 - How much do you rest? Do you allow yourself downtime to replenish your energy? These are good questions to ask yourself today as the Moon is in Gemini and in your 4th house. Do you get so caught up in working that you forget…
Dec 08, 2022 - Money may have been a concern lately but the more you focus on the positives, the easier everything is to handle, Pisces. Take time to think about the changes you wish to see and how you can manifest them. Recent lunar energies are clearing…
Dec 08, 2022 - This is an excellent day to focus on the situations and relationships that bring you joy, Pisces. You desire adventure, freedom of expression, and connection today. Try to focus on the things that bring you joy and help you to feel grateful today. Clear…
Dec 08, 2022 - You've got a lot going for you, but you might want to be a little careful about how much you show off. The Moon is moving through your emotional 4th House, so you are going to be feeling things a little more strongly than…
More Horoscopes for Pisces
In the 7 of Pentacles, we saw the worker taking a pause to assess a situation, and here, the 8 of Pentacles has him back at work. He is toiling away at his workbench and piling up 8 of the pentacles in the opposite direction. This Tarot card is an action card that sends the…
Let These Tarot Readings Help Guide You Through Your Day
Daily Gemstone & Crystal Reading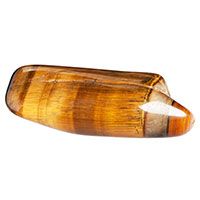 If we are looking to motivate ourselves to make a change or a commitment or are feeling depressed and self-critical, working with or keeping Golden Tiger's Eye near can provide protection and help us to find some sense of balance. Its warmth and brightness, both visually and vibrationally, can help…