Virgo Daily Horoscope: Tomorrow

Jun 04, 2023 - Let the wind carry you wherever it may today, Virgo, because chances are you could wind up learning something or meeting someone who sheds an unexpected light on a corner of the world you never even know about, and in the process the wheels in your brain could start turning at lightning speed and you could come up with something truly spectacular. Mercury is moving through Taurus and your boundless 9th House of foreign cultures and entrepreneurship and while he's there he'll align at the exact same degree as innovative Uranus, the planet of surprises.
There really is no telling just what exactly you'll come into contact with on a day like this, but it would be a real shame for you to stay in bed all day and miss out, so do yourself a favor and go out into the world and explore. I can almost promise without a doubt you'll love all the new ideas and opportunities coming your way, especially the ones that are worth their weight in gold.
Jun 04, 2023 - Sometimes it is ok to just stay at home and cuddle with your loved one. The Moon is in Sag and in your 4th house. It is highlighting the necessity of allowing yourself to do that. We are quite conditioned in our society to…
Jun 04, 2023 - How much do you rest? Do you allow yourself downtime to replenish your energy? These are good questions to ask yourself today as the Moon is in Sag and in your 4th house. Do you get so caught up in working that you forget…
Jun 04, 2023 - This is a time for laying down the foundation. There is so much to be done, Virgo, and today is about intensifying your energy and getting down to the finer details. One of the greatest life lessons is learning how to manage the material…
Jun 04, 2023 - During this Full Moon in Sagittarius transit, Virgo should focus on organization and productivity. Set goals and work on accomplishing them. To balance the energy, practice self-care activities like taking a nap or indulging in your favorite healthy snack. Hematite or Tiger's Eye can…
Jun 04, 2023 - Even if you wake up with nothing to do and no plans for the day, Virgo, just know that you're probably going to wind up engaging in some kind of activity or project you would never have seen coming your way. Your ruler Mercury…
More Horoscopes for Virgo
The King of Swords is not the guy you want to be on the wrong side of, but if you have his loyalty or appreciation, he's a good guy to have on your team. Often considered the highest leader of the court cards, he mixes the Fire element with his King status and the Air…
Let These Tarot Readings Help Guide You Through Your Day
Daily Gemstone & Crystal Reading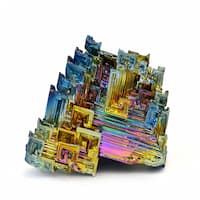 Bismuth is a beautiful multi-colored crystal that helps support transformation within the individual and brings a greater sense of confidence when working towards your hopes and dreams. It is especially helpful for teamwork and helps to relieve feelings of loneliness or being isolated. Bismuth is a Storm crystal and vibrates…