Virgo Daily Horoscope: Tomorrow

Oct 01, 2023 - What a lovely day this will be! There is an extremely beautiful and bountiful alignment in the sky overhead and while each sign will benefit from it one way or another, it looks like you're going to be more focused on getting out into the world and enjoying yourself rather than, say, using this transit as an excuse to make it rain.
Don't worry, not everyone is going to use this energy in the same way, so don't think you shouldn't pursue your pleasures because that's exactly what you should do right now. The Moon is moving through your adventurous 9th House of foreign cultures and travel, and while she's here she'll align with boundless Jupiter, the planet of good luck, at the exact same degree, casting a glow of magic over the day.
Today is all about experiencing things, so get out and experience some new things and then turn around and use those experiences to up your value.
Oct 01, 2023 - Does your romantic partnership provide your life with meaningfulness? Does it connect you spiritually to something bigger than you, something that you believe in? These are good questions to reflect on today as the Moon is in Taurus and in your 9th house. It's…
Oct 01, 2023 - Do you feel spiritually connected to your job? This is a relevant theme to ponder over today as the Moon is in Taurus and in your 9th house. What are the things you can do that permit you to have a larger experience doing…
Oct 01, 2023 - Under this lunar energy, you may notice where you tend to stay stuck in the past and how past thought patterns are holding you back, especially if there are financial decisions you have made that you are not happy about. It can be hard…
Oct 01, 2023 - The Taurus energy of this Moon phase may inspire you to focus on your relationships and partnerships, dear Virgo. This is an excellent time to connect with loved ones and strengthen your bonds. To enhance your communication skills and express your feelings more effectively,…
Oct 01, 2023 - This could be one of the loveliest days you've had in some time, so be sure you don't waste this bountiful energy because that would be a rather ungrateful thing to do. The intuitive Moon is moving through your 9th House of foreign cultures…
More Horoscopes for Virgo
Knights in the Tarot represent figures that are usually over the age of 25, but younger than 35 or 40. The swords in the Tarot represent the Air element, and so this Knight usually represents a younger member of the Geminis, Librans, or Aquarians that you know. At the same time,knights also represent deliveries sometimes,…
Let These Tarot Readings Help Guide You Through Your Day
Daily Gemstone & Crystal Reading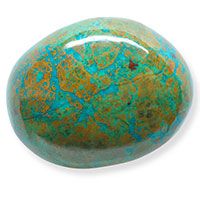 Soothing Chrysocolla has a calming effect that can assist in aura cleansing, give support to find acceptance, and help recovery from feelings of guilt, anger, and fear. If we have been hiding something, Chrysocolla encourages us to be more honest. This crystal also is helpful when healing the Throat chakra…