Virgo Daily Horoscope: Tomorrow

Dec 04, 2022 - Things could get extremely intense today, Virgo, so just know this is not your average Sunday; every sign will be dealing with this powerful energy in one way or another, but you're getting an extra special helping so let's take a closer look and see what you can do about it.
The intuitive Moon is moving through Aries and your 8thHouse, which rules sex, death, and secrets, but also large sums of money and other people's finances that impact you. This is already a heady transit on its own, but today la Luna will form a very disruptive and jarring square to power player Pluto in Capricorn and your expressive 5th House of creativity and passion. The 5thHouse is all about living out loud while the 8th House is extremely private, so matters could reach a very uncomfortable impasse, and financial discussions could well be part of that.
Try to keep your temper if you find yourself dealing with a problematic situation; losing your cool won't help anything.
Dec 04, 2022 - Does your romantic partnership provide your life with meaningfulness? Does it connect you spiritually to something bigger than you, something that you believe in? These are good questions to reflect on today as the Moon is in Taurus and in your 9th house. It's…
Dec 04, 2022 - Do you feel spiritually connected to your job? This is a relevant theme to ponder over today as the Moon is in Taurus and in your 9th house. What are the things you can do that permit you to have a larger experience doing…
Dec 04, 2022 - Today brings the chance to concentrate on your sense of self as this lunar energy is strengthening your creative energy, Virgo, and causing you much contemplation. It is a good time to focus on your relationship with money and how it makes you feel.…
Dec 04, 2022 - Ego struggles and conflicts are possible today, Virgo, especially if you have aggressive energy within the body. Physical exercise is the best way to release heated feelings. Try starting the day with kickboxing or a light jog to help you clear your mind and…
Dec 04, 2022 - Things could get intense in a matter of seconds today, Virgo, so watch your behavior if you aren't ready for some searing experiences. The Moon is moving through Aries and your 8th House of sex and intimacy, which is certainly not the most lighthearted…
More Horoscopes for Virgo
There is a bit of a juggling act in play when the 2 of Pentacles appears in your reading. If you are seeing this today, the Tarot is telling you that you've got a lot going on. But this is a Minor Arcana card and not an Earth-shattering juggling act. You may have put a…
Let These Tarot Readings Help Guide You Through Your Day
Daily Gemstone & Crystal Reading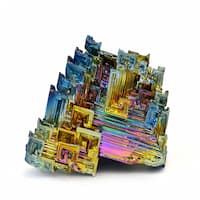 Bismuth is a beautiful multi-colored crystal that helps support transformation within the individual and brings a greater sense of confidence when working towards your hopes and dreams. It is especially helpful for teamwork and helps to relieve feelings of loneliness or being isolated. Bismuth is a Storm crystal and vibrates…