Dec 06, 2022 - The Moon is in Taurus today and in your 9th house. Do you feel spiritually fulfilled at what you do? Does it connect you to something bigger than you? Does it provide your life with meaning?
These are all relevant questions to reflect on today. Ask yourself what it is that you require in your job in order to have all those things be a part of your reality.
It's so easy to keep your practical and spiritual lives separate, but a true spiritual life is one where that sense of sacredness and wholeness permeates all areas of your life including your career. The Moon is also trining Pluto in your 5th house, highlighting the importance of being in touch with your creativity at your job.
More Horoscopes for Virgo
The 2 of Swords has much different energy than the Ace that came before it. This is a card that shows that inaction may be the place you are in regarding a specific situation. You may be at a crossroads on the decision, as noted by the crossed swords in front of the figure in…
Let These Tarot Readings Help Guide You Through Your Day
Daily Gemstone & Crystal Reading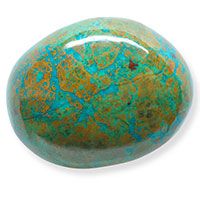 Soothing Chrysocolla has a calming effect that can assist in aura cleansing, give support to find acceptance, and help recovery from feelings of guilt, anger, and fear. If we have been hiding something, Chrysocolla encourages us to be more honest. This crystal also is helpful when healing the Throat chakra…
WHAT IS YOUR WORKPLACE MATCH?
Find out how you and your career match up!