Virgo Sex Horoscope: Yesterday

Sep 30, 2023 - Dang, look at you go! You're practically on fire and no one is going to be able to quench your burning desire but you so if you've got an itch to scratch then let the Universe know because it'll happily send someone your way to deal with that. Romantic Venus and the intuitive Moon are meeting up for their twice-a-month trine, this time across your dreamy 12th House and your 8th House of sex and intimacy.
It's always a heated time when you've got either of these heavenly bodies camped out in such a personal place, but today will be on a different level entirely thanks to the two of them blending their energies together so, well, erotically. The Universe is giving you cosmic clearance to pursue whatever your heart desires, so don't let this transit go to waste! You're gorgeous and you know it, and so does everyone else, alright?
More Horoscopes for Virgo
There is a definite feeling of being trapped when the 8 of Swords appears in your day or in your reading. This could be an issue of physical entrapment, such as with matters related to the law or justice, as Swords often deal with legal matters. But Swords also deal with thoughts and words, so…
Let These Tarot Readings Help Guide You Through Your Day
Daily Gemstone & Crystal Reading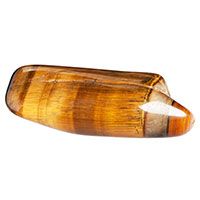 If we are looking to motivate ourselves to make a change or a commitment or are feeling depressed and self-critical, working with or keeping Golden Tiger's Eye near can provide protection and help us to find some sense of balance. Its warmth and brightness, both visually and vibrationally, can help…