Virgo Sex Horoscope: Yesterday

Mar 24, 2023 - You've been bouncing through the world for some time now, Virgo, taking it all in like one big pleasure cruise. It's nice that you've been enjoying yourself but do you recall the simple idea that if we were always happy then what would be the point in ever being happy? If we always were enjoying life then there would be no value in it because that's all life would be and there would be no contrast to remind us of just how good things can get.
Now, don't get worried that the Universe is getting ready to send you a big dose of bad times to make up for any fun you might have had, that's not at all the case. What is happening is that you're going to start giving more than getting, and that the Universe keenly desires for you to pay it forward for whatever you've recently gained.
What gifts have you received from the universe, be they things, people, relationships, etc, and how have you thanked the Universe in turn? Projecting your love onto another person might be a good way to show you're thankful.
More Horoscopes for Virgo
You are looking for or needing harmony and balance in a situation when the Temperance card appears. But this is not a negative connotation. The Temperance card appears in the Tarot after The Death card, and this is sending us the call for balance and peace after a stressful situation. In most cases, the balance…
Let These Tarot Readings Help Guide You Through Your Day
Daily Gemstone & Crystal Reading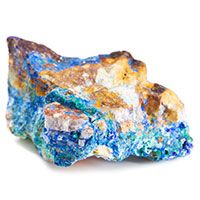 Azurite is known to help when we are dealing with emotional issues, confidence, and the feeling of impatience. Sometimes we lose touch with our ability to be kind and to feel comfortable within our own skin or within our surroundings. Sagittarius and Aquarius can feel particularly left out from time…