Virgo Daily Horoscope: Yesterday

Sep 25, 2023 - This could be an incredibly productive day, so trust that you don't want to waste this energy. The funny thing is the stars are actually aligned in a way that promises to make things come off as pleasantly as possible, and while some signs will use this energy as an excuse to take time off and go play in the sun, you're going to use it to your professional advantage, and well you should because it looks like the planets are more than prepared to reward any effort.
There is an incredibly abundant alignment happening between the Moon in your work-a-day sector and both Mars and Jupiter, throughout the day, which could result in your pulling at least one spectacular coup. Don't sit back and wait for chance to pass you by.
Sep 25, 2023 - Are you willing to do the daily work necessary in order for your romantic partnerships to work out? This is a great question to meditate on today as the Moon is in Aquarius and in your 6th house. Relationships just like any other aspect…
Sep 25, 2023 - Discipline is discipleship, this means that discipline isn't thinking "oh, I hate doing this but I have to do it anyway." It means knowing that you're doing what you're doing because it is paving the way for you to accomplish what you want to.…
Sep 25, 2023 - You're probably feeling a little less motivated towards focus at this time and you may feel a desire to keep yourself to yourself under this lunar energy. It's an important time of contemplation for you and you may find yourself thinking about your current…
Sep 25, 2023 - You may feel a desire to focus on your health and wellness today, Virgo. Focus on activities that allow you to prioritize your self-care, such as going for a walk or practicing yoga. The best crystal to work with today is Clear Quartz, which…
Sep 25, 2023 - I want you to roll up your sleeves and get to work first thing, Virgo. I know that's not what you were expecting to hear in a sex horoscope but let me explain. The planets are coming together overhead in some extremely positive and…
More Horoscopes for Virgo
The 6 of Pentacles is another one of those dreaded "stage" cards in the Tarot. But it's not to be dreaded, really. The Tarot always tells us what we need to hear. A "stage" card in Tarot is when there is a line at the midpoint of the card that illustrates a grey area. This…
Let These Tarot Readings Help Guide You Through Your Day
Daily Gemstone & Crystal Reading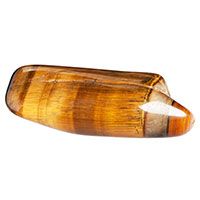 If we are looking to motivate ourselves to make a change or a commitment or are feeling depressed and self-critical, working with or keeping Golden Tiger's Eye near can provide protection and help us to find some sense of balance. Its warmth and brightness, both visually and vibrationally, can help…