Virgo Daily Horoscope: Yesterday

Mar 24, 2023 - There's been a lot going on lately, there is no doubt of that, and frankly it's more than a little impressive how well you've been handling things. It wouldn't be all that shocking as though you've felt caught between two worlds; one where you want to just have fun and indulge in your desires all day, and another where you're really trying to forge ahead with projects and manifest something major, but trying to find a balance, or at least make a choice, has been more than a little difficult.
Well, get ready because the Universe is going to be sending you a watershed moment where you get to finally make an absolute choice as to which path you want to follow. It looks, however, like the universe might already know what path it wants you to follow, and it looks like it's the clean and organized professional path. Put on your hiking boots, Virgo, it's time to do some major walking.
Mar 24, 2023 - Do your romantic relationships provide your life with a sense of meaning? Do you feel spiritually fulfilled through them? The Moon is in Taurus and in your 9th house and is inviting you to reflect on these questions. Relationships are so much stronger when…
Mar 24, 2023 - The Moon is in Taurus today and in your 9th house. Do you feel spiritually fulfilled at what you do? Does it connect you to something bigger than you? Does it provide your life with meaning? These are all relevant questions to reflect on…
Mar 24, 2023 - You may feel a little short-tempered or overwhelmed today if your financial plans are not hitting the spot. The key is to stay calm and regroup if you need to. Do you need to be a bit more flexible? Can you change your plans…
Mar 24, 2023 - You feel more grounded than usual today, Virgo, helping you stay focused on the task at hand. Hard work comes naturally under this planetary influence, so let that ambitious energy flow through you. Start the day with chakra work to promote balance and stronger…
Mar 24, 2023 - You've been bouncing through the world for some time now, Virgo, taking it all in like one big pleasure cruise. It's nice that you've been enjoying yourself but do you recall the simple idea that if we were always happy then what would be…
More Horoscopes for Virgo
You are looking for or needing harmony and balance in a situation when the Temperance card appears. But this is not a negative connotation. The Temperance card appears in the Tarot after The Death card, and this is sending us the call for balance and peace after a stressful situation. In most cases, the balance…
Let These Tarot Readings Help Guide You Through Your Day
Daily Gemstone & Crystal Reading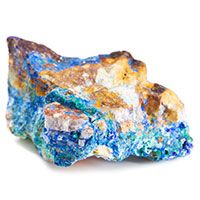 Azurite is known to help when we are dealing with emotional issues, confidence, and the feeling of impatience. Sometimes we lose touch with our ability to be kind and to feel comfortable within our own skin or within our surroundings. Sagittarius and Aquarius can feel particularly left out from time…