Taurus Daily Horoscope: Yesterday

Mar 29, 2023 - Do you know where all your energy is going? With so much going on it can be easy to lose track, but today a tense beam between expansive Jupiter in your hidden 12th House and the Moon in your 3rd House of communication encourages you to leave no stone unturned. What you find might surprise you. Whether it's a streaming service you're paying for and not using, or perhaps an obligation you completely forgot about, it looks like there's something that will require your attention.
You're great at coming up with solutions, so if you find there's places where fat could be cut you can be sure you'll track it down. Just don't try and force some new program on anyone else; if someone wants to team up for an endeavor you shouldn't have to beat them over the head with it.
Mar 29, 2023 - What is the nature of the dialogue between you and your romantic partners? Do you know how to communicate clearly and directly with one another in a way that enables there to be trust and transparency in your relationship? The Moon is in Cancer…
Mar 29, 2023 - How good are you at expressing your ideas to others? Do you feel skillful in your communication abilities at work? The Moon is in Cancer and in your 3rd house and these are all questions to meditate on. Communication can truly be everything sometimes.…
Mar 29, 2023 - Today brings the chance for new ideas, Taurus. This is a time when you are able to see your finances more clearly under this Moon. Furthermore, your creativity levels are powerful and you are able to merge your creative streak with the physical world.…
Mar 29, 2023 - This transit is urging you to step out of your comfort zone and take risks, Taurus. Embrace this energy by trying something new, like a cuisine you've never tasted before. You can also work with the crystal citrine to boost your confidence and self-expression.…
Mar 29, 2023 - If you've been hiding your light under a bushel it may be time to step out and let the world know what is up. This is especially true if you've been keeping your feelings hidden from someone special, but, then again, you're not exactly…
More Horoscopes for Taurus
It's a new day! Literally, in some cases, when The Sun card arrives. But The Sun also represents a new day in your situation you are asking the Tarot about today. Major Arcana cards can be quite ambiguous when it comes to timing, and generally, the meaning of time when Major Arcana cards arrive is…
Let These Tarot Readings Help Guide You Through Your Day
Daily Gemstone & Crystal Reading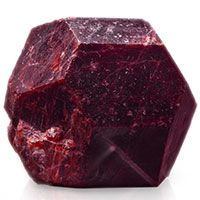 Garnet promotes love and attracts romance, making it an excellent stone to work with for anyone looking to increase the love in their life. This crystal is particularly helpful for those under the signs of Leo, Virgo, Capricorn, and Aquarius, all signs where loyalty is of the utmost importance. Garnet's…