Taurus Daily Horoscope: Yesterday

Dec 06, 2022 - It may be Tuesday and you may already be eyeing next weekend, but that doesn't mean you can't roll up your sleeves and get to work regardless, Taurus. That isn't to say you can't go out and have fun, you certainly can, but if you want to use today's energy to your advantage then the best thing you could do would be to put your nose to the grindstone and see what magic you can manifest.
The intuitive Moon spends the day soaring out of your sign moving into Gemini and your grounded 2nd House of earned income and material possessions, so regardless on what's already on your plate you should be in the mood to get down to the basics. If you don't want to go all in then how about laying the groundwork for projects and ideas you can implement in a few days once you're truly feeling the vibe?
You're so brilliant, so make use of that brain in a way only your sign can possibly manage.
Dec 06, 2022 - The Moon is in Taurus and in your 1st house of self, it is also trining Pluto in your 9th house today. A necessary part of any healthy and successful relationship is being able to take care of yourself and your needs without needing…
Dec 06, 2022 - Today is a good day to bring the focus back on you. The Moon is in Taurus and in your 1st house of self. How much do you allow yourself to direct your energy towards yourself? Also, how much do you allow yourself to…
Dec 06, 2022 - It might be a little difficult to feel like you've got a grip on things today, Taurus; your mind keeps drifting away to parts unknown but you have obligations to deal with in the here and now and frankly they might not be all…
Dec 06, 2022 - Your ego might take over if you aren't careful today, Taurus. While confidence is wonderful, it's important that it doesn't turn into arrogance – which can cause conflict. Try making a list of the things that you're grateful for to encourage an appreciate, humble…
Dec 06, 2022 - This is going to be a rather quiet day for you, Taurus, so take that at face value and don't push anything because that wall isn't going to turn into a door. The intuitive Moon spends the day sailing through mercurial Gemini and your…
More Horoscopes for Taurus
The Knight of Cups is always a welcome card in any reading, particularly in Tarot readings about love or romance. A wonderful invitation is on its way to you, or you may be the one receiving the invitation. This invitation may be anything from a new date if you are single, to a proposal if…
Let These Tarot Readings Help Guide You Through Your Day
Daily Gemstone & Crystal Reading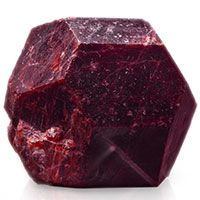 Garnet promotes love and attracts romance, making it an excellent stone to work with for anyone looking to increase the love in their life. This crystal is particularly helpful for those under the signs of Leo, Virgo, Capricorn, and Aquarius, all signs where loyalty is of the utmost importance. Garnet's…