Taurus Health Horoscope: Yesterday

Nov 27, 2023 - This is an excellent day to focus on the situations and relationships that bring you joy, Taurus. You desire adventure, freedom of expression, and connection today. Try to focus on the things that bring you joy and help you to feel grateful today.
Labradorite is a creative, intuitive crystal that will connect you to your higher self today. Place labradorite near your notepad while you write to help inspired thoughts and ideas flow.
Berries are high in fiber and rich in antioxidants, vitamins, and minerals. Start your day with a kale and berry smoothie for energy and satisfaction. Add chia seeds to stay full throughout the day.
More Horoscopes for Taurus
Just as he was in ancient days, The Emperor in the Tarot is the symbol of ultimate authority; but where his authority lies in your day or question remains to be seen. This could be anyone from a police officer to a real estate agent or lawyer. Home issues and father figures can also crop…
Let These Tarot Readings Help Guide You Through Your Day
Daily Gemstone & Crystal Reading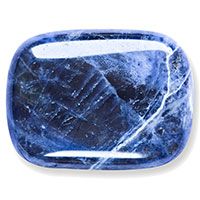 Sodalite's name was taken from the Ancient Greek meaning for "salt stone," referring to the white Calcite flecks peppered through it. Known for its properties of intuition, guidance, and focusing energy, Sodalite is a wonderful crystal to work with to help with self-esteem for guidance, and its calming vibrations can…