For the Month of: May 2023
May - Happy birthday, dear Taurus! As the Sun shines on your zodiac sign, you can expect some exciting energies to come your way. Your patience and hard work is finally starting to pay off. A reminder that slow and steady wins the race. Even though you are a go-getter, a make-it-happen kind of person. So, if you are feeling antsy or frustrated this month, try to find a way to channel that energy into something productive. Maybe you could revisit an old project or hobby that you haven't had time for lately. Or perhaps it's time to step back and focus on self-care for a little while.
Pluto kicks off the month, going retrograde in Aquarius on May 1, later moving back into Capricorn. As Pluto goes retrograde, take some time to reflect on where you've been and the direction you are moving in. Remember that transformation takes time, but with patience and persistence, you'll get where your soul desires. And who knows? Maybe even discover a whole new version of yourself along the way.
A dynamic Lunar eclipse in Scorpio heads your way, ushering significant changes to your relationships and partnerships. The Lunar eclipse is about transformation and releasing old patterns that no longer serve you. This change may feel like a challenging process, especially regarding your relationships. However, growth and evolution are keys to a healthy and happy partnership.
As the eclipse approaches, you may find yourself reevaluating your current relationships. You may realize that dynamics are no longer working for you, or perhaps you'll feel inspired to seek new connections that align more closely with your values and desires. In addition, you may find yourself drawn to someone new or feel a renewed sense of passion and connection with your current partner. So, communicate your desires and boundaries, and always prioritize consent and respect. After all, there is nothing sexier than a Taurus who knows what they want and not afraid to go after it.
On May 7, Venus swims her way into Cancer, adding a touch of sweetness to your communication and relationships. This cosmic energy is all about connecting with others in a deep and meaningful way, whether it's through words or physical touch. As a Taurus, you value stability and security in all areas of your life, including your relationships. And with Venus in Cancer, you're about to experience a deeper emotional intimacy and connection.
Taurus, get ready for an exciting week as Mercury goes direct in your sign, followed by Jupiter entering your sign and ending with a New Moon in your sign on the 19th! This cosmic energy is all about growth, expansion, and new beginnings. As a Taurus, known for your grounded and practical nature, but this week, the universe is calling you to dream big and take risks. With Mercury going direct, expect a renewed sense of clarity and direction, making it easier for you to pursue your goals. And with Jupiter entering your sign, you're about to experience a new level of abundance and good luck. This energy is about growth and expansion, so don't be afraid to think outside the box and pursue new opportunities. Set your intentions, Taurus, and patiently watch them bloom.
Get ready for some steamy and passionate energy as Mars enters Leo and shakes-up your emotional world. This cosmic energy is about exploring your deepest desires and connecting with your innermost self. You may feel more confident and adventurous, and ready to explore new avenues of pleasure and excitement. Whether trying out new things in the bedroom or exploring your creative side, trust that the universe is guiding you towards passion and fulfillment.
The Sun is leaving your sign and entering Gemini on May 21, and you know what that means? Time to let loose and have some fun. You may feel more social than ever, eager to connect with old friends and make new ones. And with Gemini's playful and curious energy, expect some laughs along the way.
As the month ends, Taurus, you may feel a little challenged by the Sun-Saturn square on May 28. Expect to face some tough choices, or difficult decisions but know that you have the strength and wisdom to navigate them with grace and courage.
This month, use cedarwood essential oil to promote calmness to the mind and body. Rhodonite is a beautiful crystal to balance and heal the energies of May.
May's mantra, "I trust that everything I desire is already on its way to me. I embrace the present moment with gratitude and joy."
Make sure to check back every month to get your personalized astrological insight from our experts.
Want more information about your own personal astrology? Discover more about your zodiac sign, monthly transits, and your birth chart through our free resources.
Get Your Free Horoscopes Here
There is definitely a sense of broken dreams or loss when the 5 of Pentacles appears. The Tarot is indicating that you are going through a tough time, and feel "out in the cold" in some way. Maybe you feel spiritually or emotionally abandoned by someone or something. Maybe you are just feeling a little…
Let These Tarot Readings Help Guide You Through Your Day
Daily Gemstone & Crystal Reading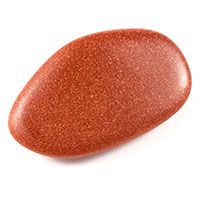 Red Goldstone is an uplifting crystal that can be used to find your positivity, become more confident, seek higher levels of calm, and can encourage us to be more ambitious and driven. The little flecks of gold throughout the crystal are symbolic of the "light" you may find when using…