Apr 01, 2023 - You are encouraged to listen to any feelings you get today that seem to pop out of nowhere, Taurus.
Sometimes the thoughts we get don't make much sense but we find there was always a reason for them in the aftermath. Just be careful your thoughts don't spiral into negative thinking.
What is your intuition telling you right now about your finances? Do you trust yourself, Taurus? You should. Your inner self is powerful and only wishes to lead you to a place of fulfilment.
More Horoscopes for Taurus
It's time to sit back, relax, and enjoy the fruits of your labours when the 9 of Pentacles arrives. We see a woman dressed in lush attire in a garden surrounded by beauty. She has a bird perched on her hand as if she is the calmest creature in the world. In this sense, she…
Let These Tarot Readings Help Guide You Through Your Day
Daily Gemstone & Crystal Reading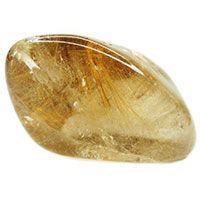 The "rutile" part of Rutilated Quartz refers to the black or reddish-brown needle-like mineral that runs through it. Due to the nature of its composition, it represents balance and duality.  We may forget that, more often than not, we are capable of helping ourselves through our own problems and may…