Taurus Daily Horoscope: Tomorrow

Dec 01, 2023 - Have things been feeling a little intense lately, Taurus? Have you had to deal with a lot of extreme financial matters that took the wind out of you? If the answer is yes I wouldn't be all that surprised, but I am happy to tell you that the mood majorly lightens under today's stars.
For the last few weeks you have hosted communicator Mercury in your 8th House of financial security and other people's money, which is just about the most intense sector of the zodiac. This energy changes, however, as Mercury waves goodbye to Sagittarius and jumps into Capricorn and your boundless 9th House of foreign cultures and high-ideals.
It's time to get out in the world and discover all that it has to offer, and if you do then you'll come across more than one idea that will turn out to be worth its weight in gold.
Dec 01, 2023 - Do you know how to just relax with your partner at home and still manage to enjoy yourself just as much as if you were to go out and do something fun? Is it easy or hard for you to be in stillness with…
Dec 01, 2023 - How much do you allow yourself to rest? Do you permit yourself time to just be, relax and rejuvenate? The Moon is in Leo and in your 4th house, and is asking you to reflect on those things. If you're the kind of person…
Dec 01, 2023 - It's important to maintain a sense of balance today under this lunar energy. The crystal selenite is wonderful for you to meditate with and keep by your side at this time. It enables you to push through any negative energy, particularly about your financial…
Dec 01, 2023 - You may experience power struggles with others today, Taurus, increasing your stubborn nature. However, letting go of expectations will help you find the balance and harmony you need today. Start the day with physical exercise to release frustration and give you a boost of…
Dec 01, 2023 - You've probably been on something of a journey of deep exploration lately, Taurus, or at least that is what the planets are implying. For the last few weeks you have hosted communicator Mercury in your sensual 8th House of sex and intimacy, which is…
More Horoscopes for Taurus
There's a lot going on in the 8 of Wands, and there are multiple meanings depending on the question that you are asking of Tarot. When the 8 of Wands appears, generally the meaning implies something happening quickly to help evolve a situation, or something arriving out of the blue. This is a great card…
Let These Tarot Readings Help Guide You Through Your Day
Daily Gemstone & Crystal Reading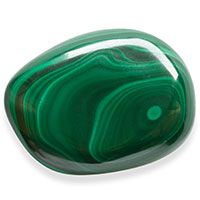 Malachite is most beloved for its healing properties and confidence-boosting reputation. Malachite offers protective and healing qualities, amplifying any change we wish to make in our lives.  This particular crystal is helpful for the intense signs of Scorpio and Capricorn who benefit from personal exploration.  Its primary chakra is our…