Taurus Daily Horoscope: Tomorrow

Mar 30, 2023 - Today could feel like a major rollercoaster of ups and downs, so buckle in and do your best to enjoy the ride because you'll need to keep your attitude positive handy. The intuitive Moon is currently moving through your 4th House of family and foundations, giving you all the feels. While there's nothing really wrong with that, things may be a bit more difficult thanks to the complicated alignment in the sky.
The Moon is forming a tense opposition to intense Pluto in your 10th House of career and professional ambitions. One minute you're plugging away at a project, the next you've dissolved into full on water works, then a few minutes later you're back to rolling up your sleeves. You can make progress on a day like this, but don't overextend yourself just for the sake of a few dollars.
Mar 30, 2023 - The Moon is in Cancer and in your 3rd house of communication today, and it is also trining Neptune in your 11th house. This aspect between the planets is emphasizing the importance of having a strong sense of friendship between you and your lover,…
Mar 30, 2023 - How good are you at expressing your ideas to others? Do you feel skillful in your communication abilities at work? The Moon is in Cancer and in your 3rd house and these are all questions to meditate on. Communication can truly be everything sometimes.…
Mar 30, 2023 - This is a powerful time of reflection and worrying about money issues is not the best way to go about the day, Taurus. It is not the best way to go about any day really, as it tends to drain you of your energy…
Mar 30, 2023 - This is a great time to focus on your home and family, Taurus. Consider redecorating or organizing your living space to create a more nurturing environment. To enhance your connection to the natural world, spend time outside and surround yourself with plants. Carry a…
Mar 30, 2023 - Sorry to tell you but things are going to be kind of rough today, so you might as well accept that sex isn't going to be taking top billing on today's menu. The intuitive Moon is currently moving through your 4th House of feelings…
More Horoscopes for Taurus
The 10 of Cups is a wonderful card to see in any reading, and when it shows up in your day, you are being given a message of pure love. For Yes/No questions today, the answer this loving card brings is an absolute YES. You are going to get what you want, and then some.…
Let These Tarot Readings Help Guide You Through Your Day
Daily Gemstone & Crystal Reading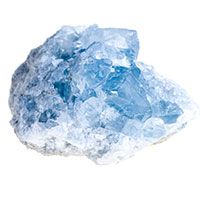 Celestite is a deeply spiritual crystal that helps to connect us to divine wisdom and supernatural forces within the cosmos. This is a crystal to use when you are strengthening your spiritual abilities. It is also a wonderful crystal for those exploring their clairvoyant or psychic abilities. It promotes inner…