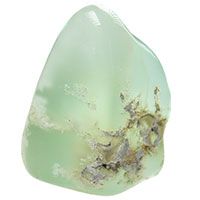 Affirmation(s): "I make decisions based on my heart."
Chrysoprase is known to help with detoxification and matters of the heart. That's why compassionate Chrysoprase's primary chakra is the Heart chakra—it helps us to love ourselves and others.
This stone's effect on relationships is especially powerful for Libra and Taurus placements due to their ties to self-love. Chrysoprase can assist with a lack of self-confidence and can help us be more open and honest.
This is a special stone for easing any negative thoughts that may have come about through an influx of thinking. This crystal can also help boost positive energy due to its compassionate energy and ability to heal.
Wearing Chrysoprase or keeping it near can inspire us to hope and happiness and to generally feel positive energy radiating around us.
This stone can also be used in the bath or around water to magnify its energies.