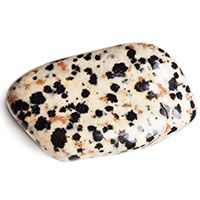 Color(s): White with brown and black spots
Affirmation(s): "I go with the flow, but know I am protected."
Like its unique patterning, Dalmatian Jasper has a playful energy that mimics that of the inner child—it can be referred to as the "Stone of Joy." The dark spots are tourmaline, which adds spiritual energy of grounding and protection to this stone.
Dalmatian Jasper's primary chakra is the Root chakra, which relates to our security and survival, as well as to our basic needs. It can be especially helpful to those under the sign of Gemini.
How to Use Dalmation Jasper
If your Root chakra is blocked, or you have been feeling out of control or even scared about some aspect of your life, working with or wearing Dalmatian Jasper can provide a calming effect, even helping us to feel protected and more grounded.