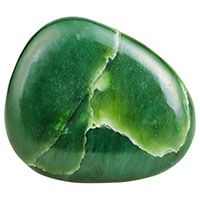 Affirmation(s): "I recognize abundance."
Jade is a well-known crystal for attracting good fortune and success. It was valued in ancient China for its beautiful color and its ability to bring prosperity and the energy of abundance.
Sometimes, people will use this crystal as a good luck charm that they will keep with them to keep fate smiling upon them. The Jade stone provides balance, security, and an overall sense of expansion and abundance.
Particularly helpful to those under the signs of Aries and Pisces, two signs that can burn the candle at both ends for very different reasons, this stone has properties of longevity and prosperity.
Its primary chakra is the Heart chakra, connected to our center of awareness and being able to forgive.
​​Jade is not necessarily limited to financial abundance but can create fortunate situations that will lead to more monetary success. Toss a stone into your change jar or keep one near your wallet to brighten your future.
Using or wearing Jade can also make us feel harmonious and aid us in finding love in a healthy relationship.
Whenever you need a boost in a certain area of life, grab your Jade and let it get to work. This gem is particularly good to use during manifestation rituals between the New Moon and Full Moon.