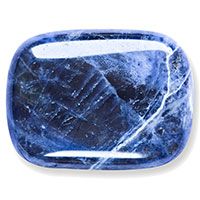 Color(s): Blue with white
Affirmation(s): "I let logic and intuition guide me."
Sodalite's name was taken from the Ancient Greek meaning for "salt stone," referring to the white Calcite flecks peppered through it. Known for its properties of intuition, guidance, and focusing energy, Sodalite is a wonderful crystal to work with to help with self-esteem for guidance, and its calming vibrations can help those fraught with an overactive imagination. 
Helping to find emotional balance, working with or wearing Sodalite can be beneficial in "finding our voice."
Its primary chakra is the Throat chakra, which is connected to the way we express ourselves and communicate with others.  
Excellent for Sagittarius to work with, Sodalite can help this honest sign deliver whatever message they wish to convey with more tact.
Sodalite is a good stone to use when practicing Tarot, as it may bring you greater spiritual insight. 
This stone also makes for beautiful jewelry—a necklace or pendant worn near the Throat chakra will help elevate positive feelings of self-expression. 
Sodalite's calming energy also makes it a great stone to keep near your bed, helping to settle busy minds.  
In the workplace, this stone encourages peaceful exchanges and interactions.