Tarot is an incredibly powerful tool, but it doesn't need to be placed on a pedestal of highly mystical ritual only. Whilst it's great to have some rituals and sacred space associated with your Tarot readings, you don't need to take three hours out of your day and a week of cleansing and preparation to get amazing insights and results.
Tarot is a tool for everyday life, to help you connect with your intuition and create your future. There's no end to the ways you can use Tarot. It's all up to you and how it will serve your highest good.
If you'd love to make every day an intuitive, connected and aligned experience where you make conscious choices about what you create, then these Tarot spreads are the perfect tool for you.
I encourage you to commit to a week of involving Tarot in your daily life, and experience the amazing effects for yourself.
The Daily Tarot Card Draw

This classic Tarot "spread" is a simple way to bring Tarot into your everyday. But don't be fooled by its simplicity! You can get so much depth and insight from just one card, when you ask the right questions and remain conscious of the energy of the card throughout the day (bonus points for journaling your insights on your card each day).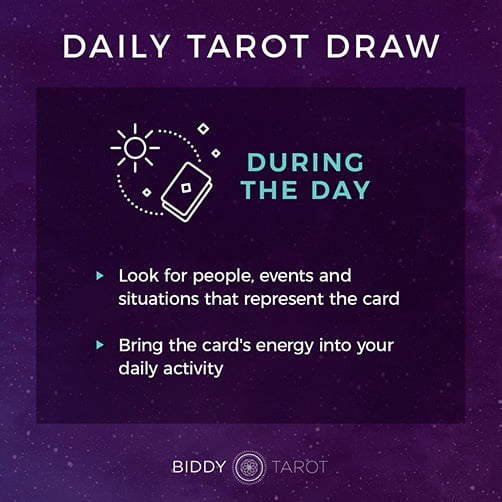 The Daily Tarot Card Draw is the essential activity to connect with your intuition and build your confidence using Tarot. Plus, starting your day with a ritual like this sets you up for success – you'll be clearer on what you want to create and go through your day with more purpose and intention.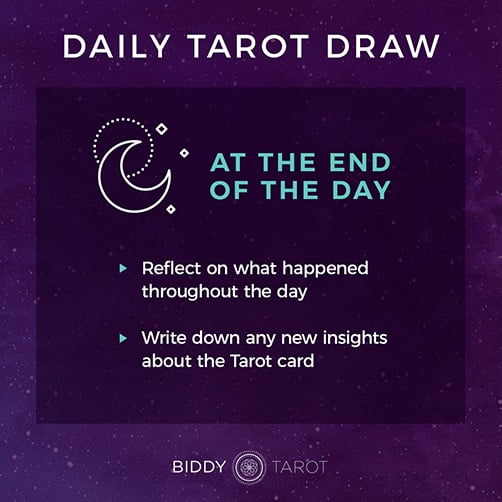 If you stick with this ritual, you'll begin to notice your intuition getting stronger, making life more enjoyable and empowering you to live the life you want.
3-Card Spreads for Decision Making

It doesn't matter whether you're a Tarot beginner doing a reading for the first time, or a seasoned professional with decades of experience – a 3-card Tarot reading will give you the crystal clear insight you need. Seriously, you can get super deep with just 3 cards.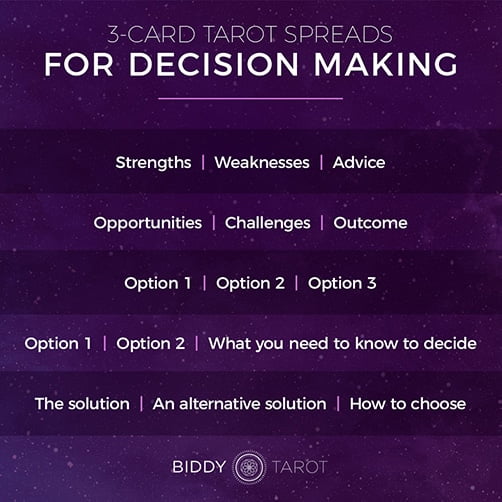 Try this 3-Card Spread for Decision Making when you're stuck deciding between options or decision fatigue sets in as all those choices come up through the day!
3-Card Spreads for Love & Relationships

We all desire connection. We seek to be seen, heard and understood by others. We yearn to love and be loved. It makes perfect sense then, that the health of your relationships is influential in your everyday happiness.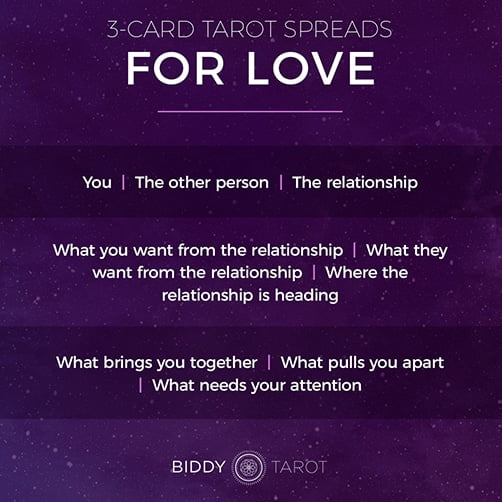 Now, the way we ask the Tarot about our relationships is extremely important. We could ask disempowering questions like, "Will I ever find love?" or "Is my partner cheating on me?" and then become despondent when the cards show us something difficult. This is giving away your power. It's far better to enter into conversation with the Tarot about the things in your relationships that you can affect. When you ask the Tarot questions about yourself, you can take action to manifest the outcomes you want.
3-Card Spreads for Self-Discovery

Self-discovery is one of the greatest gifts the Tarot has to offer us. When you take a moment out of every day to tune into your inner wisdom, you can access all the answers that are within you.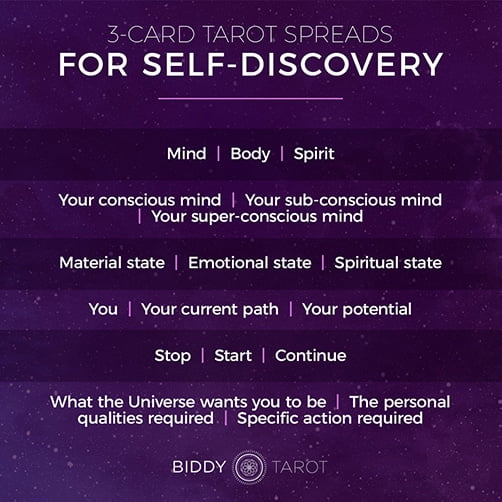 Self-discovery comes from having a conversation with yourself, just as you would anyone else you were getting to know better. The 3-card spread for Self-Discovery will help you build a relationship with this inner, higher self.
The Daily Self-Love Ritual
Like the Daily Card Draw, this isn't technically a Tarot "spread", but it's an incredibly powerful everyday practice. If you want to give your self-love an extra boost, try out this daily self-love ritual. It's perfect for reaffirming all the beautiful parts of yourself:
Every day, for at least seven days, ask the Tarot, "What do I most love about myself?" Draw a card, then spend ten minutes journaling about what you love and appreciate about yourself based on this card. Start each sentence with "I love that I…"
I dare you not to feel good after practicing this kind of affirmation! Remember this: you don't attract what you want, you attract what you are—and that's one of the infinite reasons why feeling uplifted, powerful, and "high-vibe" is essential!
Navigating your way through the day doesn't have to be hard. You can stick with your goals and intentions (or consciously release them if they're no longer serving you). Make the decision to connect with your inner wisdom through these everyday Tarot spreads and practices, and experience the true magic of your intuition.