It's Full Moon time again friends! And the July 2015 Full Moon event comes to us not once, but two glorious times this year. It's an event that we call the Blue Moon, or in this case, the Full Blue Moon in Aquarius. Our first July Full Moon came to us on July 1 with a lovely Full Moon in Capricorn. These were several beautiful days of a Full Moon that encouraged you to get real about your Full Moon wishes, and the growth of your soul's potential. Did any wishes come true for you this month? If not, it's not too late to make them count. In fact, this Full Moon in Aquarius is a rare Blue Moon event that says, it's now or never. How will you make your Full Moon wishes really count this time around? With our help of course!

Full Moon in Aquarius: Once in a Blue Moon
The Full Moon in Aquarius is a Blue Moon that almost never happens. And to get two Full Moons in one of the Summer months is even rarer! The last time we had two Full Moons in the month of July was 2004! And, if you are thinking, "I'll do my soul work the next time it comes around…" think again! You won't see two Full Moons in the month of July for another 19 years! And we won't have another Blue Moon month for at least four more years. This means, this once in a Blue Moon event is truly rare. And this makes your Full Moon in Aquarius this month more real than ever before. It's truly…now or never. What will you choose to do with this energy?
• What: Full Moon in Aquarius, the Blue Moon that may be your once in a lifetime Moon that changes…everything.
• Who: The Full Moon event is occurring in Aquarius. Aquarius is ruled by Uranus, and so there will be some unexpected events as we discussed earlier this week. Air Signs, Gemini, Libra, and Aquarius, will be the most affected. But so too will their partners and the people in their lives! This means you! All zodiac signs are going to feel this crunch time. But fear not, this could be the most miraculous crunch time of your life!
• When: July 31, 2015. You also have the two days before this Full Moon, and the two days after this Full Moon to make those wishes count. And because this is such a rare event, know that the wishes and choices you make now could impact you for six months to come.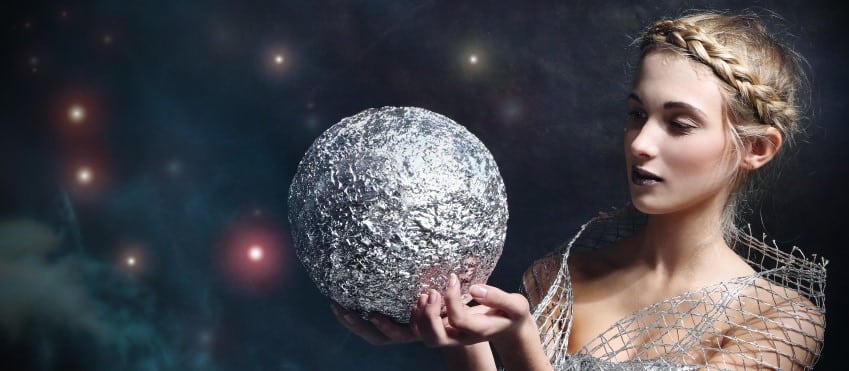 Your Checklist for the Full Blue Moon in Aquarius
• Between Uranus retrograde, Venus retrograde, and Saturn going direct in Scorpio in a day or so, this is a now or never moment for you. It's time to cut out what isn't working, and ask for help from Universe if you aren't sure what that is. Full Moons illuminate. Allow Universe to show you what you need to remove from your life, so you can make room for what will work in your life.
• Embrace the bigger picture. The unknown terrifies all of us, and that's why so many are afraid of the future. You don't need to know what's ahead to embrace the possibilities that lie before you. Embrace not what will be, because you don't know that yet. Instead, embrace what CAN be. Ask the Full Moon in Aquarius to help you find that light.
• What have you been neglecting? Only you know the answer to this. If you don't feel fulfilled and happy in your every day life right now, then you already know what areas of your life have been neglecting. As we said when discussing Uranus retrograde, it's time to get real! Not being honest about what changes you need in your life is only going to accomplish one thing. And that is, nothing. If you want to stay in a stagnant rut, that is your choice. But the Blue Moon in Aquarius says, it doesn't have to be that way.
• Love changes…..everything. We've been talking about romance all Summer long, and there's a reason for that. Love has literally been in the air in many different ways. Venus has had her hand in it, as we have already discussed. And now you have a Blue Moon event that won't happen again for another 19 years. There is a deep connection to romance with this Full Moon in Aquarius. Now is not the time to be shy, because you won't get this energy again for a while. And the love that blossoms under this gorgeous Full Moon is going to be the kind of love that you never thought was even possible. It's not too good to be true. It is happening! How will you create the most fulfilled love possible under this beautiful Full Moon?

• Twin flame and soul mate energy is abundant during this period. There's a very good chance that you already know who that is, and if not, ask this Full Moon to help. Fear has no place in this union, that is founded on unconditional love. Make at least one small move with your Twin Flame or soul mate under this glorious Full Moon event.
• It's okay to be afraid. That's called being human. But it is not okay to live in fear if you want to be a success. Success and fear do not belong together. So whether you need success in love, work, or play, acknowledge your fears. There's a saying. "If your dreams don't scare you, they aren't big enough." And this Blue Moon is a gentle reminder of that. Be afraid, and acknowledge those fears. And then give them back to the Full Moon. It will reward you!
• Open your eyes, and awaken to possibilities. This Full Moon in Aquarius is going to illuminate secrets and mysteries and facts that you were never aware of. It can be a little nervewracking, but you need to see them in order to move forward. Allow this to happen. We have a tendency to close our eyes when we are afraid. This time don't! The answer is right in front of you. How will you embrace this opportunity?
• It's now or never. Has it been a difficult year for you? It has been for many Earthlings. This Full Moon event is the one you have been waiting for to change…everything. Listen, life can't be bad all the time. That is against the law of the Universe. Universe is about balance. If it has been a difficult one for you, this Full Moon says, this is your moment. It's all been leading up to your now, which is…right now. Major pieces of your soul puzzle are going to come together in a way under this Full Moon that will suddenly have everything making perfect sense. That is, if you let them. Your choices are to stay in your rut, or embrace this once in a lifetime moment. What will it be?
Certain events in your life only come around once in a Blue Moon. We are saying, that time is now. You have a choice. You can embrace this moment, or, you can keep going at your current pace. What will you choose? What are your Full Moon wishes under this beautiful Full Moon in Aquarius, your once in a lifetime Blue Moon?