Capricorn & Sagittarius Compatibility
When Capricorn and Sagittarius come together in love compatibility, it will seem like a match of opposites attract. There is almost nothing that Capricorn and Sagittarius have in common, but there will be some chemistry here that neither sign will want to let go of too quickly. In this match we have the Cardinal Earth Sign of Capricorn paired with the Mutable Fire Sign of Sagittarius, and so there are many different energies coming into play. Capricorn and Sagittarius come into this at two different speeds, so there may be some key differences in play. If this match comes together early with the intention to make it work, there is a high chance of success for however much time they wish to spend together.
There is a lot going on with the Cardinal and Sagittarius match that will appeal to both parties. Sagittarius is a Mutable Fire energy, and brings a very fast pace to the relationship that is dynamic and creative. Capricorn is attracted to this, and to the adventurous nature that Sagittarius brings to every date and romantic experience. Capricorn on the other hand is the hardworking and Cardinal Earth Sign. So what Capricorn can provide materially and financially to this relationship, is very appealing to Sagittarius. Capricorn also really appreciates how flexible and mutable Sagittarius is. If Capricorn needs a long night at work, Sagittarius doesn't bat an eye over it, which Capricorn really likes. At the same time, when it comes to off time for Capricorn, Sagittarius is always full of great ideas that will be very enticing to Capricorn, so long as Capricorn is willing to give them a chance.
As the Mutable Fire Sign, Sagittarius is always flitting from one thing to the next. This comes off as impulsive and reckless to hard working and practical Capricorn on occasion, and Capricorn will wonder if Sagittarius is ever able to settle down. Capricorn has a point, and may find flirty Sagittarius a little too much energy for their liking. At the same time, Capricorn needs to methodically think over every little thing, and this is something that Sagittarius won't have patience for. Capricorn also takes a fact based approach to life, and this will irritate the Sagittarius way of feeling their way creatively through life. There are two very different personalities in play here that will need to work hard to make this match work.
How To Maximize Your Zodiac Compatibility
If the Capricorn and Sagittarius match wants to go the long haul, they have a very good chance of doing so because they both are very flexible. Neither one of these signs hangs onto a grudge for very long and this trait that they both share will help them navigate any wrinkles in love. Because Sagittarius is a bit difficult to tie down, Capricorn will need to make it clear what they want early on in the relationship. If a short term thing is all Capricorn is after, Sagittarius may be only too willing to provide. But if not, Capricorn has a right to know that from the beginning, and is best to handle this conversation before they find themselves in a situation with someone that doesn't want the same things they want in life. When Capricorn and Sagittarius can however align their goals, they will find a great love to share with each other for some time. They will also find one that will open both of their minds to the many differences in life that are magical.
You Might Also Be Interested In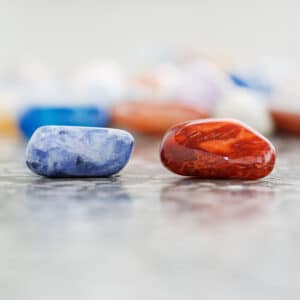 The crystals for Aries that follow are not purely exclusive to those born under the
Read Full Article »