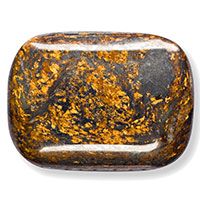 Color(s): Brown, with hues of yellow and green
Affirmation(s): "I give and receive loving energy."
Bronzite is a helpful crystal for naturally unblocking all seven major chakras in the body.
Use this crystal in meditation or for work relating to any chakra you are finding issues with. Hold the stone to each chakra for a moment, breathing in deeply and imagining the energy of the crystal healing, opening each chakra within the body. 
You can repeat this practice anytime you need a boost of confidence and harmony.